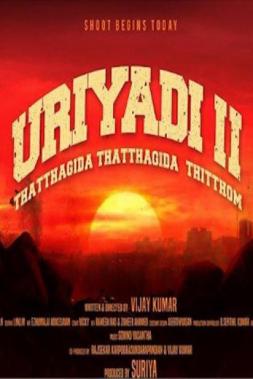 Uriyadi 2 Movie review
Vijay Kumar's Uriyadi released in 2016 had created a lofty credential for itself which has led to an increased expectation level for Uriyadi 2. However the director had been telling in many of his interviews that Uriyadi 2 is a standalone product and it is the sequel only in its spirit. This film gets more colorful with the involvement of Suriya as its co-producer.
The common factor that connects both the Uriyadis is the politician's apathy and their selfishness to which common people becomes a scapegoat. In Uriyadi 2, Vijay Kumar has taken the issue about a chemical factory which has been denied permission to operate in UK but the owner sets it up in a village in Tamil Nadu without adhering to any safety measure here. Of course, anything and everything is easy in this country when you have money power. This is more like the Union Carbide in Bhopal whose Methyl Isocyanate leak few decades ago had completely ruined the population present there and still has its perilous ramifications.
Vijay Kumar must be lauded for taking on an important and pertinent issue here. He has not wavered for most parts but for a small stretch of romantic segment. However, this portion is not annoying and so is not a major niggle. The first few scenes give a documentary feel with a voice over narration. Director jumps into the story pretty much early establishing the base. The sections involving the three friends and the two women are in fact cute.
The story starts galloping right after this and the powerful dialogues help in conveying the mood of the story. Having hardly known faces in the cast list helps because they come with no image baggage and hence relatable. Performance wise, all of them have done their work decently. One is not able to perceive what Vijay Kumar is thinking and this could be a boon and bane for him as an actor. Scenes, where people suffer due to the inhalation of the poisonous gas, are too serious and heart breaking.
On the flip side, Uriyadi appears to be more of a docu drama than a feature film. Secondly, the subject is technical and requires procedural content which the director has used but this may not appeal to the common audience. Govind Vasantha's BGM is too loud that in some places it shrouds the dialogues where they had to be heard. This should have been avoided. Engagement factor is something Uriyadi 2 is not too high in as the director has strictly adhered to his core premise. Production value appears to low in Uriyadi 2.