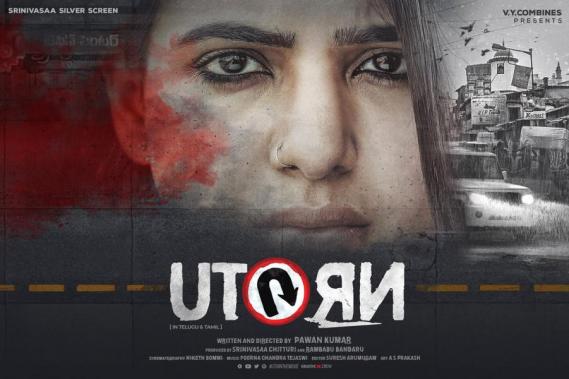 U Turn Movie review
U Turn is the remake of the 2016 Kannada film under the same title U Turn and sees Samantha Akkineni in the lead role for the Tamil and Telugu versions alongside Aadhi Pinisetty, Rahul Ravindran, Bhumika Chawla, Narain, Ravi Prakash, and Aadukalam Naren in supporting roles. Pawan Kumar, who directed the original, has returned to direct the bilingual remake marking his debut in Tamil and Telugu.
Samantha as Rachana is an intern news reporter and investigates a story involving traffic rule offenders, who disrupt a divider and take a U-turn on a flyover. Her investigation lands the traffic offenders in trouble as they commit suicide one after the other. The backstory and how Samantha manages to solve the mystery of the deaths forms the crux of the story in U Turn.
Samantha has proper scope to perform and has beautifully played her part as the story's lead character. In addition, it was unique to see her in a bold makeover in U Turn. Aadhi supported the story well as a sincere police officer and his character gets a steady growth as the movie progresses. Naren and Bhumika Chawla have also utilized the limited space given to them while Rahul Ravindran has also played his part neatly.
Director Pawan Kumar's writing stands out with the suspense factor tightly holding the viewers till the end. Dialogues are sharp and deliver the intentions of all the characters aptly. The screenplay in U Turn is gripping as the murder mystery element upbeats the experience, with a balance to the flow and relatively only a few dull moments.
U Turn has a crisp runtime as it doesn't involve any songs. With the given space, musician Poorna Chandra Tejaswi has done a decent job in the background score department. Impressive cinematography by Niketh Bommireddy and clear cut edits by Suresh Arumugam add tremendous strength to the film overall.
Initial love portions between Samantha and Rahul Ravindran delays the kickoff in U Turn. However, the story has numerous twists and turns that might surprise you by remaining predictable only at a few junctures.
Samantha's U Turn deals with what seems to be a minor indifference that could be fatal.