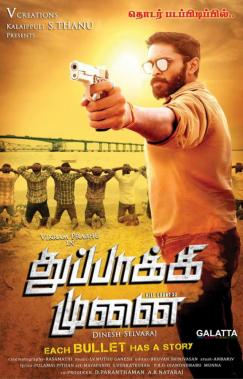 Thuppakki Munai Movie review
Vikram Prabhu is an encounter specialist named Birla Bose in Thuppakki Munai. He takes up a rape case and how he solves it forms the crux of the story.
Vikram Prabhu's character gets defined well via a flashback in the title card with some smart cuts. The dialogues are the biggest selling point in the movie, be it an emotional one or a social one, the writing is sensible and sharp at the same time. There is a depth in the center character which drives the film. MS Baskar, Vikram Prabhu's mother and RJ Shah as a false terrorist are some memorable characters created by the director.
The detailing and realistic treatment to RJ Shah's flashback is noteworthy. The social ideas have been handled with so much maturity and the climax press meet sequence is filled with so much sense, there is also a practical approach in that particular scene. The story is convincing and the storytelling is partly interesting. A crucial topic is taken and enough impact has been provided, but the issue is that the same situation is repeatedly shown in various angles to reveal the complete incident. And, the melodrama factor is formed after awhile with respect to MS Baskar's character.
The 'Manjal Nayagi' song placed to build an emotion is a speed-breaker and the sentiment-driven visuals are also familiar. The flow becomes slow in the middle as the movie starts to revolve a single subject continuously. A few portions were artificial and lacked the punch. In the antagonists' side, there are many artists and we could not concentrate fully on anyone and a dilution takes place.
Vikram Prabhu has selected a neat script and he has fitted himself in it nicely. His character arc is really good when he conveys his takeaway at the end. Hansika's presence is very little and she could have had a better importance in the story. Even Aadukalam Naren as Hansika's dad appears just to add more drama to the progress. Supporting characters like MS Baskar and debutante RJ Shah have played their part in a fine manner.
The songs are moderate but they satisfying as montage tracks. The background music gives a mixed feeling as the tunes are very powerful but too loud at the same time. The cinematography is appealing, the wide-angle shots are perfect. Editing is also decent, a few cuts were exciting but overall it could have been a bit crisper with a smaller number of flashbacks. Stunts sequences are slick, sticks to reality and the fight sequences pack a punch too.
Watch the video review of Thuppakki Munai on 'Galatta Tamil' YouTube channel here.