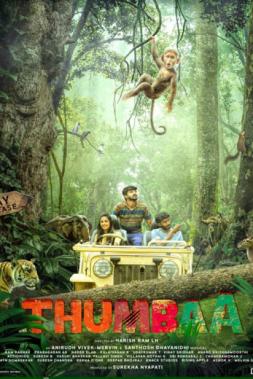 Thumbaa Movie

Photos
View More Thumbaa Photos
Thumbaa Movie Cast

Photos
Thumbaa Movie review
Thumbaa is a Tamil jungle based adventure film that has hit the screens today. This film features Kanaa fame Darshan, debutante Keerthi Pandian, and KPY fame Dheena in the lead roles with many computer-generated animals forming the supporting cast. The film's promotional teaser and trailer promised a fun filled adventure outing. Has the film lived upto its promise?
Varsha (Keerthi Pandian) is an aspiring wildlife photographer who travels to Topslip to capture a tiger so that she could get a job in wildlife based media channel. She seeks the help of two youngsters, Hari (Darshan) and Umapathy (Dheena) to get it done. Did Varsha's mission succeed? What did Thumbaa, the tiger do to them when they ran into her? Watch the film to know the answer.
Thumbaa is a kids-friendly film that will definitely be an enjoyable outing for the children, but if you ask about adults, it is quite debatable. If you would adapt yourself to the mood and the setting of this film, then you might like Thumbaa. The narration is uneven at places and the graph drops down at certain junctures in both halves. The premise is interesting and socially relevant that carries a good message.
The execution part is where the film falters to an extent. A glad aspect is that there was no romantic angle infused between the lead pair, thanks to the writers Ram Ragav, Harish Ram, and team. The unnecessary deviation was avoided and the film completely travelled along with the premise. All the difference, saving a single tiger could do to the country and to its people, is told through a useful cameo by Jayam Ravi.
Talking about the computer graphics, the images look like soft toys in some shots rather than a real animal, and so the impact is quite lesser. However, the majority of the CG shots are decent enough, given the limited resources, the team had. The cute monkey, called Tiger, is a fun treat to watch. Kids will love this character. The drama isn't exciting enough to keep the adults engaged.
Naren Elan's visuals capture the scenic beauty of the hills and the jungle. Santhosh Dhayanidhi's background score and Kalaivanan's editing is functional acting as an aid to the flow of the film. Director Harish Ram's intent is good and we could see that from certain number of scenes. Also, the writing flow is also impressive. However, a sense of completeness is lacking in the overall impact of the film.
Coming to the performances, Darshan has lent an innocent act, but at places, he looks artificial. Keerthi Pandian is an impressive find and she has delivered a convincing performance. One could hope that she finds good projects in the coming days that would suffix the performer inside her. KPY Dheena is a delight on screen and the counters are quite natural, bringing in laughs, at regular intervals. Other supporting casts are apt in their respective roles.