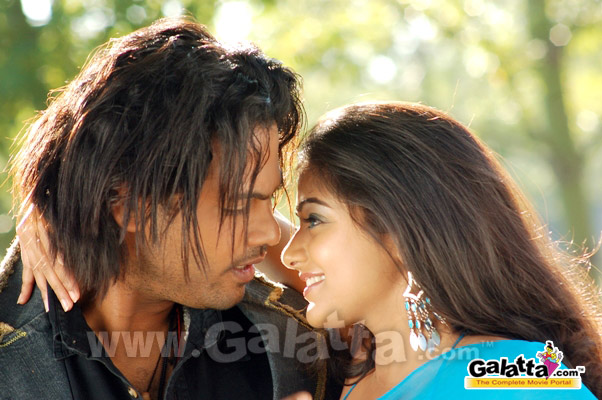 Thotta Movie review
Thotta talks about the transformation of a straightforward honest young man into a menacing rowdy; circumstances and the compelling need to find a means for survival forces him to lead a criminal's life. The young boy (Jeevan) comes to Chennai along with his mother, in search of his father and finds him leading a happy life with another woman. Expelled from the connection, the boy loses his mother in the brawl. He comes across a kind auto driver (Chandrasekar) who helps him in performing the last rites for his mother. He also gifts him some money and advises him to go back to his hometown. The poor boy decides not to, as he could identify nobody to fall back on. But he reassures the auto driver's help in his young heart, at the much-needed moment.
Identifying a spark in the young boy's eyes, Commissioner Muthuvel (Sampathraj) assigns him as a helper to carry out minor errands for his group, a bunch of criminals comprising Minister Manimaran (Livingston), his P.A. Ganesan (Thalaivasal Vijay) and financier (Santhana Bharathy). With his smartness and understanding, he graduates to become the appointed killer Thotta, who executes murders, at the gang members' wish. While carrying out one of the attacks, he meets Nalina (Priyamani), the ambitious woman. Nalina's acquaintance offers Thotta a chance to settle his debt of gratitude. He takes efforts to fetch her a job in the Police force, using his influential links. But circumstances thwart his every attempt.
With a fresh sinister murder, he is forced to face the result of his offenses. He earns the wrath of the gang he worked for. Kennedy (Charanraj), the Chief Investigation Officer, wants him in connection with several cases. All Thotta wants now is to let Nalina know the truth. But it is a realisation that may come too late to save him.
There are so many things in Thotta that contributes for the film's appeal. The major strength of Selva's screenplay is the addition of rational incidents to project each and every character in the film. Thotta's other side is revealed through the care and concern he shows towards his friend Giri (Vishnupriyan). Similarly, when Vanaroja (Hema Chowdry), the head of the rival rowdy group declines to help the investigating officer, it shows the unspoken support she proffers her comrade in trade.
Action blocks by Thalapathy Dinesh are amazing; Srikanth Deva's music, particularly 'Mugham Poo', is melodious and soothing; camerawork by Balamurugan is good; Jeevan has lived as Thotta on the screen; Priyamani's glamour and performance is appealing; all the characters occupy a significant place in the storyline; the entire supporting cast has done well.
Thotta (Bullet) relates to speed; This Thotta too signifies the same.