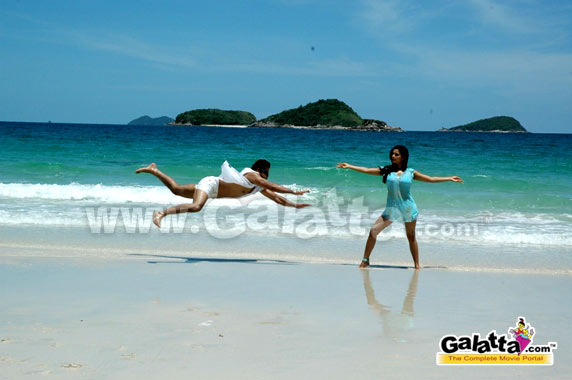 Thoondil Movie review
Director K.S. Adhiyaman's specialty lies in film plots that explore family relationships. Starting from Swarnamuki, Priyasaki, Thottachinungi, the director has stood by his own conviction to create such films and his work seems to satisfy consistently satisfy the public. Thoondil is yet another insightful exploration in this genre. Its drama brings out the soulful craving of motherhood and the loss of true love.
Sriram (Shaam) and Anjali (Sandya) are newly-weds who settle down in London. Bound by love and lust, their life is filled with vigour and charming prospects of a happy family. As time passes, Anjali, who is naturally passionate about children, remains childless. Pregnancy and motherhood elude her continuously and the young couple obviously grows worried. Upon analysis and after a brief course of treatment that fails to bring about expected results, the gynaecologist (Revathy) discloses a shattering truth - her obstetric condition declare4s that she cannot conceive naturally. She needs to find another lady who will donate her eggs. Fearing that his loving wife may break down hearing the truth, Sriram tactfully keeps this fact secret from Anjali. He goes ahead and finds a willing donor.
Eventually, Anjali gives birth to a sturdy young boy and he grows up. Everything goes well till the biological mother appears and snatches the boy away from Sriram and Anjali. Now Anjali discovers a harsh truth, one that had been niggling her intuition. She finds out that Sriram had approached none other than his ex-lover (Divya) for help in this crucial situation, to build his own family. Torn between affection for her only son and a strong emotion facing her husband's dishonesty (from her stand!) poor Anjali is in an emotional turmoil.
On the other hand, Sriram's love tale, now revealed, brings forth the truth. All of them (Divya, Shaam and Anjali) come to know how Pooja's model co-ordinator (R.K.) had craftily advised Sriram to step out from Pooja's life in order to groom her as a successful model. But as in all Adhiyaman's films, all ends well.
The major drawback in the film is the editing. Lack of continuity and cohesiveness make audiences wonder how the succeeding scenes are really connected. Camerawork (Kaviyarasu) is also not outstanding. With the entire story set in London, we do not get to see the charm of the city anywhere in the entire film, unlike the Kannada film, Sajni, which was like visiting London without a visa or passport.
Shaam as a struggling father, caring husband and pitiful lover has put up a very realistic performance. Sandya, one of the shining heroines of Kollywood, has transcended the image-trap by attempting a mature role, as the mother of a 5-year old. She proves her talent through her mature performance. Divya's villainy, though not amply established, is something refreshing. Vivek's comedy is enjoyable. Songs in Abhishek Ray's music are passable.
Thoondil is a testimony to director K.S. Adhiyaman's genuine effort.