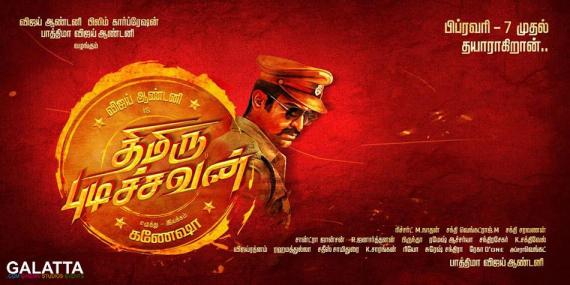 Thimiru Pudichavan Movie review
After finishing a gutsy cop mission, Vijay Antony is promoted to Inspector posting from Constable. What happens in his professional and personal life after becoming Police Inspector forms the remaining story of the movie.
The movie has a convincing storyline and a decent plot to create an enjoyable mass masala flick. But with poor execution, the engagement and excitement factor goes completely missing. Literally, each and every element present in the film is over-the-top and due to limitless exaggeration, nowhere there is a connectivity. Honestly, there were a few creative ideas which could have pleased the viewers if they were presented neatly within the cinematic liberty space.
There are plenty of amateurish elements and logic loopholes in the movie. There are too many silly factors like insomnia watch and its working style, the way of conveying hero's disease, showcasing the anger of a villain's sidekick through hair-raise, pebble-water story narration to a wounded soul, stone training sequence, friends-with-Police concept, gifting brother's gifts to random boys, Villains attacking the hero by seeing blood pressure strategy. Grabbing power through God and the hero-worshipping climax was far from reality.
Vijay Antony has played the cop role without any errors, he has conveyed some loud dialogues convincingly. Nivetha Pethuraj has nicely dubbed for her dialogues, her expressions are cute in the love scenes. Stunt Dheena is the main villain and he has performed well, but the weak situation failed to elevate his character. Also, certain important flashback points are explained in an animated format which does not create any impact. The other supporting artists who played as the area people and Police officers have appeared like passing clouds as they did not seek any attention.
Low budget is evident at many places, the news gets circulated through Police walkies and not via news channels or any other medium for that matter. There is no visual consistency on the whole as some frames are clean and some have grains. Vijay Antony slips in multi-tasking, his songs are not impressive and follow the regular template. His background music is also not note-worthy. He has also edited the movie and there are many lags in the progression. The film runs for more than 150 minutes and the feel is long-drawn-out. In simple, the end product can be sadly termed as a troll material as there are a countless number of backfired moments.
Watch Thimiru Pudichavan video review on 'Galatta Tamil' YouTube channel here.