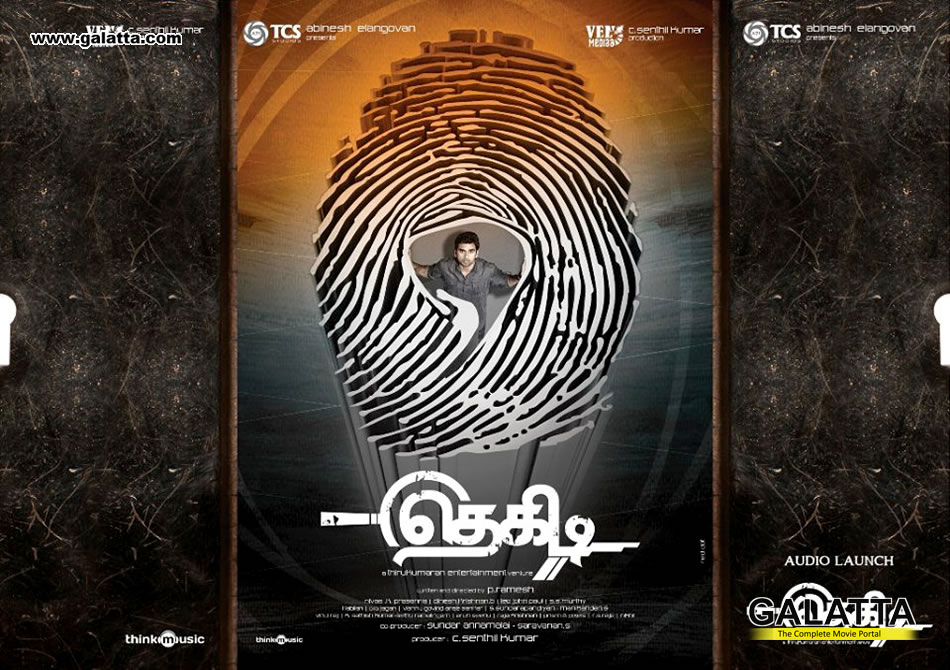 About

Thegidi
A detective begins investigating people and finds that he's in over his head.
Thegidi Movie review
Coming from the house of CV Kumar's Thirukumaran Entertainment, ABI TCS and Vel Mediaa, the uniquely titled Thegidi stars Ashok Selvan and Janani Iyer under P. Ramesh's direction, with music by Nivas Prasanna.
The movie opens to Vetri (Ashok Selvan) receiving an offer letter from Radical Detective Agency. Adter completing his education in criminology, his dream of pursuing a career in crime solving has just taken off. He travels from his hometown of Tanjore to Chennai to take up the job, and moves in with his friend Nambi (Kaali), a chef by profession. Sailesh (Jayakumar) and Sadagopan (Pradeep Nair) are his seniors in the company. Here, Vetri is given the task of collecting detailed information on certain individuals, which he goes about doing meticulously. While trying to stealthily enter a person's house, Vetri is seen by Madhu (Janani Iyer), who happens to be visiting her friend's house.
Coincidentally, Madhu happens to be the next case Vetri has to collect details about. On following her closely, Vetri begins liking Madhu and slowly falls for her. He meets her in person and states that he was only trying to get into his friend's house and that is when she saw him. Slowly, the two get into a relationship. Suddenly, one day Vetri comes across in a newspaper that one of the people he had collected information about, has passed away due to a vehicle accident. Becoming suspicious about the death, Vetri starts asking around, and he finds out that another person whose details he collected has also met with an accident and died. Finding things fishy, Vetri tries to warn 2 other people he has collected details about, and is suddenly confronted by the killer himself. Suddenly, Vetri realises that not everything around him is as it seems to be. Things suddenly spiral out of hand and Vetri and Nambi are arrested by Inspector Raguram. Meanwhile, fearing for Madhu's safety, as she was also on Vetri's list, he brings her to his new home. Here, Madhu realises that not everything that Vetri told her was true. Feeling betrayed, Madhu leaves the house. With Madhu gone, and with a threat on his life, no job to go to, Vetri is left in the lurch. Who is the killer? Why is he killing the people? Will Vetri track down the killer? Who are his friends and who are his foes? Will Madhu escape the killer's clutches? Watch Thegidi on the big screens to know!
Director P. Ramesh has brought to screen a wonderful plot with a tight screenplay that keeps the viewers rivetted to their seats. The way the director has ensured that there are no unwanted diversions and the way each character has been sketched, is very good. Though one feels the climax to be wandering towards expected lines, the director keeps everybody guessing till the last scene and shows that he still holds one more card in his hands to play. Ashok Selvan is proving to be an able performer. Though his previous project did not do well at the box office, his performance in Thegidi is sure to earn him a very good name. Janani Iyer is very natural and impresses in her role as Madhu. Kaali impresses with his casual performance. Kudos to Jayaprakash and Jayakumar, who are very good. The cameo by Sai as Kamalakannan is good. Dineshkrishnan. B's cinematography and Leo Jhon Paul's editing are top notch. Nivas K. Prasanna's songs have already received a good response, and his BGM maintains the tempo of the movie.
The makers and Ashok Selvan have a winner on their hands with Thegidi... A gripping movie with wonderful performances!