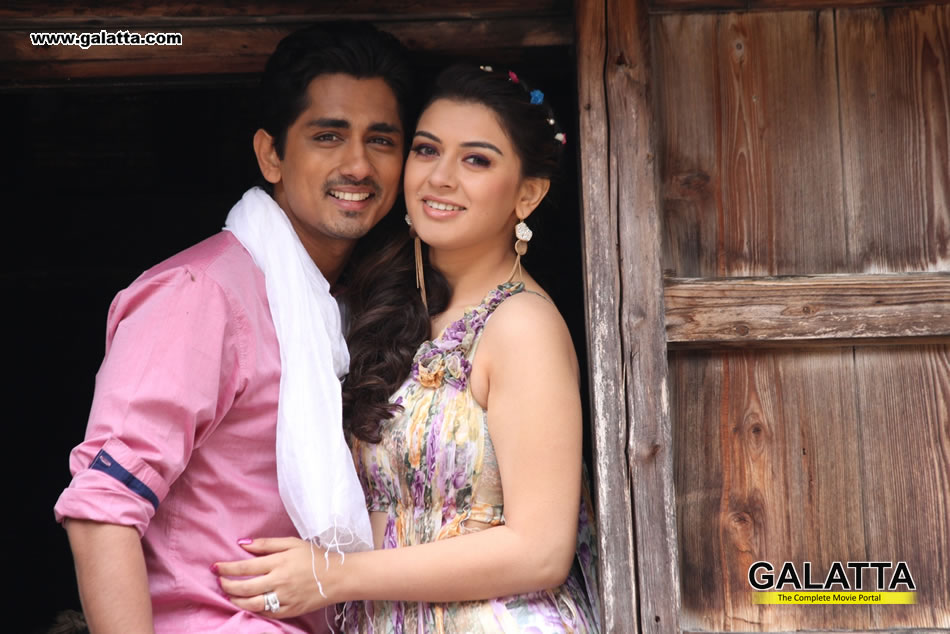 About

Theeya Velai Seiyyanum Kumaru
A shy, introvert tries to impress a girl with the help of a love guru.
Theeya Velai Seiyyanum Kumaru Movie review
Over the years, Sundar C. has craved a special place in the heart of Kollywoodians and his special forte is COMEDY. And we all know that comedy has become a safe bet in Indian cinema. This time the ace director has roped in Siddharth and Hansika in this laugh riot, Theeya Velai Seyyanum Kumaru. With Santhanam's perfect one-liners, the expectations for TVSK has already reached sky high. So here we take a look at the plot...

THE PLOT

Kumar (Siddharth) is a happy-go-lucky young man, working in a leading IT firm. His family has an interesting history, there is no concept of arranged marriages in Kumar's family. Right from his great grandfather to his sisters, everyone have had love marriages. So now it's Kumar's turn but unfortunately due to few bitter incidents in the past, he doesn't have a good opinion on women. Enter Sanjana (Hansika), the new joinee in Kumar's MNC, but then there is the handsome George (Ganesh Venkatraman), who is their team head. George and Kumar falls for Sanjana. Knowing that competing against George would be a hard thing to do, Kumar seeks the help of love guru Mokia (Santhanam). What follows next is a fun-filled roller coaster ride...

THE PERFORMANCE

Siddharth is charming and handsome, he has done an amazing job. He has carried the entire film on his shoulders and he is sure to rock the screens, in future. Hansika is as usual chirpy and cute. Anothe main highlight of the film is Santhanam's comedy timings, which is definitely a must-watch. Ganesh Venkataraman is handsome, but his role is too short. The rest of the star cast has done their perfectly. Director Sundar C's knack for comedy is amazing but the second half needs to tweaked a bit to make the screenplay tight. Sathya's music is perfect for storyline. Gopi Amarnath's camera works are good while Srikanth-Praveen's editing works are sleek.

A perfect comedy entertainer!