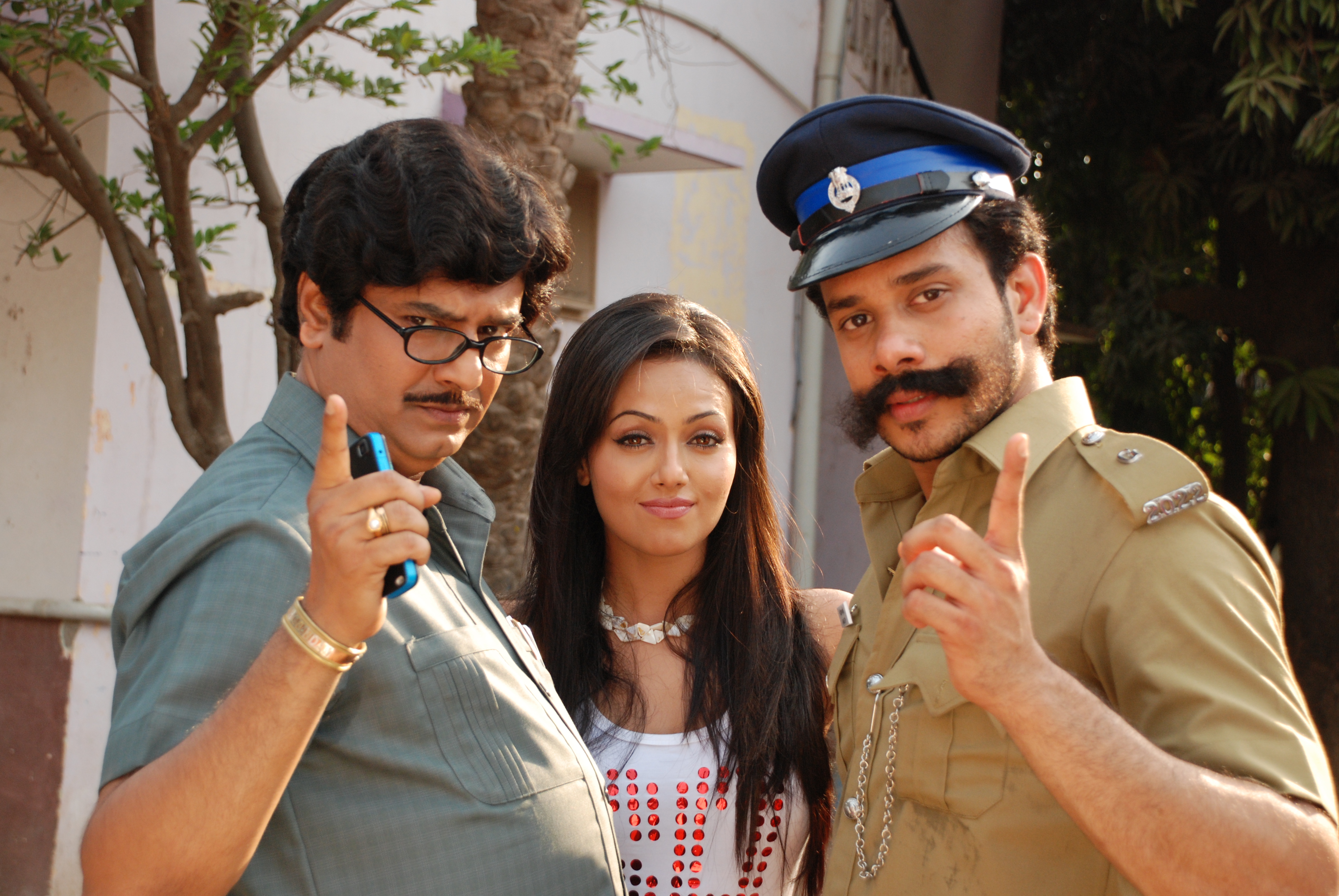 Thambikku Indha Ooru Movie review
Full of clichés, with senseless comedy, exaggerated action, too many evitable story twists and a dull, predicable climax is the right description to define Bharath's latest venture Thambikku Indha Ooru, directed by Badri and produced by J. Saravanan and C. Baskar under the banner of VK Media. We've watched hundreds of movies with the same story of a good-looking, responsible guy who is rudely shocked when he discovers that he is the adopted son of the couple he considers his loving biological parents, goes desperately in search of his true identity, confronts a baddie and after several twists and turns, realizes that the baddie is none other than his biological 'appa'! Thambikku Indha Ooru is in fact a bit modernized version; the only "new thing" in it is that the hero comes from Singapore and has to face two villains: his biological father and his girlfriend's father! Every bit of the movie is predicable and it is very sad to see that the makers of Thambikku Indha Ooru have learned no lessons from C.S. Amudhan's Tamil parody Thamizh Padam, mocking the nonstop stereotypical scenes in Tamil cinema.
Akhil (Bharath) is the owner of a restaurant in Singapore, where he lives happily with his parents. Without his knowledge, his parents fix his marriage with Priya, daughter of their family friend. Just after the marriage announcement is made by Priya's father at a dinner party, Akhil reveals that he loves Divya (Sana Khan), an Indian resident he met during her visit in Singapore. Priya's father insists that Akhil should marry his daughter as he already made the marriage announcement in public, but when he sees that Akhil stands strong in his decision, he reveals that Akhil is adopted!
Immediately, Akhil flies to India along with his friend, chef Kolakumar (Vivek), with the single piece of info that he was adopted from an ambulance driver (Thalaivasal Vijay) in a Chennai hospital. At the Chennai airport, Akhil happens to see his girlfriend being tormented by gangsters of Kumaraswami (Prabhu). Akhil saves her from their hands and thus creates a new reason for discord between him and Kumaraswami. We later come to know that Kumaraswami was once the family friend of Akhil's adoptive parents and their friendship broke up nearly 23 years ago owing to the misunderstanding that Akhil's 'father' was behind the death of Kumaraswami's wife and unborn child. After several feeble twists, we learn that Akhil is one of Kumaraswami's twin sons and the film ends with no surprise!
Except for Salai Sahadevan's cinematography especially in the songs, Thambikku Indha Ooru has nothing to lift it above average as it seriously lacks a clever approach in storytelling and overall presentation. Though the story is as old as the hills, it could have at least been presented in a credible manner by keeping off the mass masala elements which are widely ridiculed these days by audiences and filmmakers alike! Bharath as Akhil is average and needs to be very careful in picking up the right roles in future. Sana Khan as Divya has nothing to do other than looking pretty and dancing in the picturesque scenes of Singapore. Though not impressive, veteran Prabhu has done justice to his role as Kumaraswami. Vivek's comedy is one of the worst portions in the film. We are fed up with his stereotyped comedy acting and he is in fact capable of some good stuff in acting other than comedy! All in all, Thambikku Indha Ooru is purely meant for Bharath fans and can be avoidable for those who value their time!