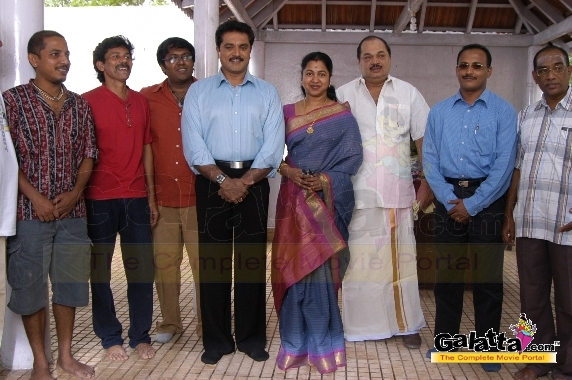 Thalaimagan Movie review
With the country rife with corruption in politics and outside, it is difficult to find an honest and fearless entity, whose aim is to fight injustice and bring the truth to the people.
The Everest daily newspaper is one such entity. Run by an honest and tough boss whom everyone calls "Ayya" (Vijaykumar), the publication aims to do away with the fluff and frills of non-serious reporting and concentrate on covering the good and bad of state politics and well, the state of the state.
Dheeran (Sarath Kumar) is the newspaper's most valuable reporter. He is young, physically and mentally tough, scrupulously righteous and unstoppable. Not only does he ONLY report the truth, he even beats up bad guys on the side to show that he is not all talk and no action.
And that is how the film opens. In a rare scene showing a simple traffic cop as being unbending and uncorruptible in front of petty villains, Dheeran thunders in to teach the baddies a lesson on how to try and be good people and respect the police!
Meghala (Nayatara) is an enthusiastic graduate of journalism and her constant irritation is that Dheeran, her boss' favourite, somehow always manages to play a trick on her or overshadow her work. Yet, in her heart, Dheeran holds a special place...
As in politics in real life, the bad guys are really bad, powerful and utterly unscrupulous. Dheeran's opposite is minister Shanmuga Vedivelu (Mukesh Tiwari), backed surreptiously by the Commissioner of Police, Alankaram (Seema Biswas). Shanmuga is a ruthless politican, with no qualms in committing any crime and certainly with no limits to the powers he is willing to use to get his way.
With constant reports of all his underhanded activities ever so frequently in the Everest paper, he has about had enough of Dheeran and wants to get rid of him in any way possible. Alankaram is roped in to help in this process. Of course, the pen being mightier than the sword and Dheeran being just physically mightier than the average person, this task proves frustratingly difficult for the Minister.
The last straw comes when Dheeran publicly opposes him and his support for a multinational company's plans to set up a mineral water factory in the state.
The background: A foreign company wants to set up a bottling plant for water in Tamilnadu and needs government permission. Shanmuga Vadivelu is willing to give them their sanctions to build their first and in future, any number of such plants, provided they pay up, in cash. The company is willing, but is concerned that water will need to be drawn from the reservoirs of 5 farming villages around the plant. As foreigners, they do not want to deal with corruption and under-handed activities and would like to received their approvals free and clear of controversy.
Of course, with such large sums of money involved, Shanmuga Vadivelu is not really concerned with farmers' water requirements and welfare and holds a press conference quickly, to overshadow doubtful questions with announcements of how the project will bring about employment to thousands of people around the plant.
When Dheeran publicly opposes the minister's views and proposed plan, the villain decides to do something about this menace called Dheeran.
Shanmuga finally loses his cool when Dheeran tricks him to exposing various files with documentation of Shanmuga Vadivelu's corrupt shenanigans. Frantic, he ropes in Alankaram to finish off Dheeran, and she proceeds to do so.
Arrested under a false case when being framed for allying with terrorists, Dheeran is taken with a convoy of police vehicles and in an innovative manner, left for dead.
But he does not die. For 2 years, he recovers his strength and practices to become more fit, skilled and expert at fighting any enemy. His recovery is all thanks to an ashram of care-givers expert in ayurveda, in Kerala and from the