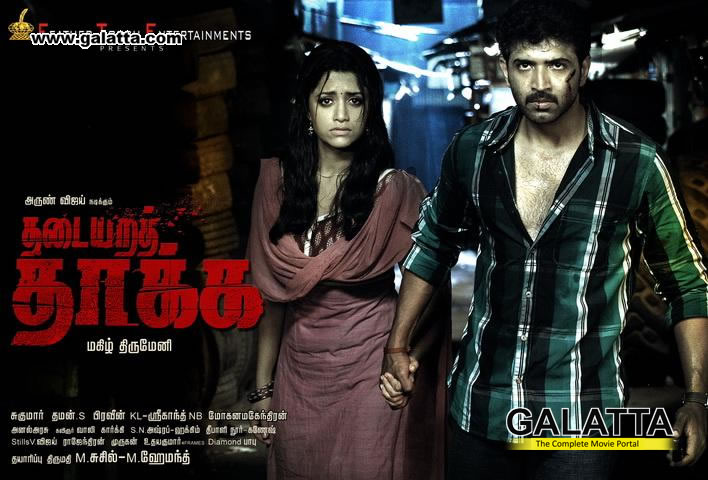 Thadaiyara Thaakka Movie review
After the success of Malai Malai (2009) and Maanja Velu (2010), Kollywood's young hero Arun Vijay and Feather Touch Entertainment join hands for a third time in Thadaiyara Thaakka, directed by Gautham Menon's former associate Magizh Thirumeni with Mamta Mohandas as the heroine. The movie will definitely appeal to Arun Vijay's fans as he delivers what is promised and that is complete masala entertainment.

The film revolves around Selva, a left-handed, successful travel agent in Chennai, who ran away from his house at the age of 15 with the second marriage of his father. Priya (Mamta Mohandas) is his fiancé. While the couple is about to be happily married, Selva has the fate of meeting two deadly goons-brothers Maha and Kumar, when they kidnap Selva's close customer's husband for money. Though Selva helps her to release her lost husband, a seed of hatred between him and the goons is paved. Suddenly, Maha gets killed and all fingers point to Selva, who indeed has no idea of the murderer. To seek vengeance, Kaha's brother Kumar and his gang chase Selva and his friends. They destroy his travel agency office and even brutally murder one of his friends. To save his friends and their families from Kumar, Selva takes the responsibility to prove his innocence. But how? Who is the real murderer? All these form the rest of the film.

Coming to the performance of the actors, Arun Vijay has put his best to prove his acting capabilities and of course he has done a good job. Mamta may not have a lengthy role, but she impresses whenever she is on screen. Rakul shows promise and will definitely go places. Among other actors, Vamsi Krishna deserves a special mention. His looks and gestures as a goon suit him, adding more suspense in the flow of the story. Others handle their respective roles well.

Thaman's track match the narrative and the "Poondamalli Thaan" are well picturised too. N. Sukumar's cinematography is another plus point of the film.
The best thing about Thadaiyara Thaakka is that it does not give us a dull moment and for this very reason, the film works.