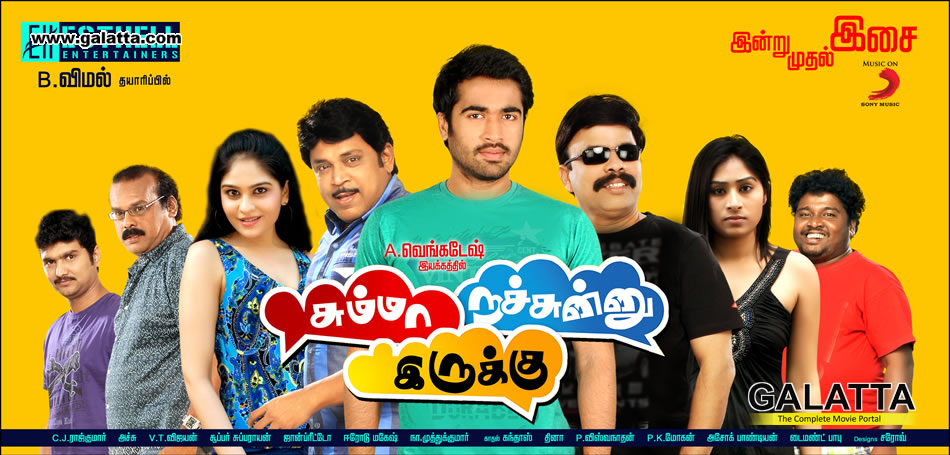 Summa Natchunu Irukku Movie review
Summa Natchunu Iruku is an out and out comedy entertainer which serves you a large dose of comedy this weekend. It stars Power Star Srinivasan, Appu Kutty,Thambi Ramaiah, Thaman Kumar and Vibha Natarajan. This movie is directed by A.Venkatesh and Achu scores the music. C.J.Rajkumar of "Ball Pen"(Kannada) fame has worked as a cinematographer. This movie is produced by B.Vimal of Esthell Entertainment.
The story revolves around fourteen individuals who coincidentally meet each other at a place where they have to sort out their problems. This movie has all the ingredients which are mixed up in perfect proportions to make us laugh. Imagine power star playing villain? It evokes laughter doesn't it? If the idea itself wins over your laugh you'll love the movie. In fact all of power star's scenes are hilarious; especially the scene in which power start imitates some of our top heroes and another thing to note is the dance moves of power star which resemble some of the dance movements of Simbhu and Dhanush in the song 'Ninaithathai Mudipavan' This song will definitely be a comical treat for the audience. Even though comedy as a genre is slightly over done nowadays this one serves as a much needed stress buster.
Achu's sound tracks are really good and C.J.Rajkumar's cinematography captures the action and comical parts in a wonderful manner. A.Venkatesh's attempt on doing a full length comedy movie has worked out well. Watch it and be prepared to laugh your lungs out!