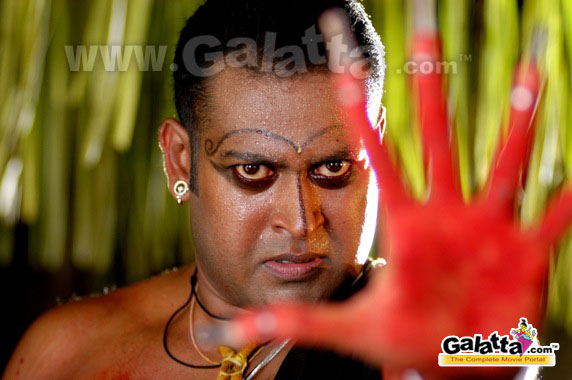 Sivapuram Movie review
Convincing Experience
There is no doubt that Santosh Sivan's first directorial debut in Malayalam Ananthabhadram (Malayalam 2005) was a different type of movie with rich cultural traditions and legends of black magic. It earned many rave reviews from all quarters. A movie similar to Chandramukhi and the recently-released Arundhathi, it has now been dubbed in Tamil with the title Sivapuram.
A lot of credit must go to the principal actors who have given commendable performances. Manoj K. Jayan stands out as Digambara, the black magician; he has imbibed the character so much that his every move makes the audience cower in their seats. The terror and the mannerisms his character conveys leaves every member intimidated.
Others in the cast include Prithviraj and Kavya Madhavan. Nedumudi Venu and Kalabhavan Mani also perform competantly. Sivan captures the lush green forests of Kerala that make us belive that it is indeed God's own country. In fact, some of the shots are said to been inspired by paintings of Raja Ravi Verma.
Riya Sen plays the role of Bhama, the seductress who finally gets Digambara to lose his celibacy; but she is always under his spell.
The supernatural starts with Ananthan coming from the US to a village named Sivapuram. His mission? To fulfil the long-standing wish of his mother (Revathy) and light the lamps at the Siva temple in his ancestral house. Digambaran, (Manoj K. Jayan) a black magician, opposes this attempt and vows to kill all who interfere in his activities. Digambaran also has his own evil agenda, namely to own the nagamanickyam (jewel on the serpent's head), possession of which will make him all-powerful.
The only person who can match Digambaran physically is Chemban (Kalabhavan Mani), a martial arts expert. However, Digambaran succeeds in blinding Chemban and then goes on to use Chemban's sister Bhama (Riya Sen) to further develop his evil designs. He resorts to witchcraft and even transmigration in an attempt to achieve his ends.
But Digambaran's conspiracy falls flat with the resistance offered by Ananthan and his lover Bhadra (Kavya Madhavan).
Art director Sunil deserves a lot of praise for erecting superb sets that makes it authentic. Special mention must also be made of Prasad's excellent editing which ensures a smooth flow.
Sivapuram is a fabulous film and a different experience in the genre of fantasy folklore.