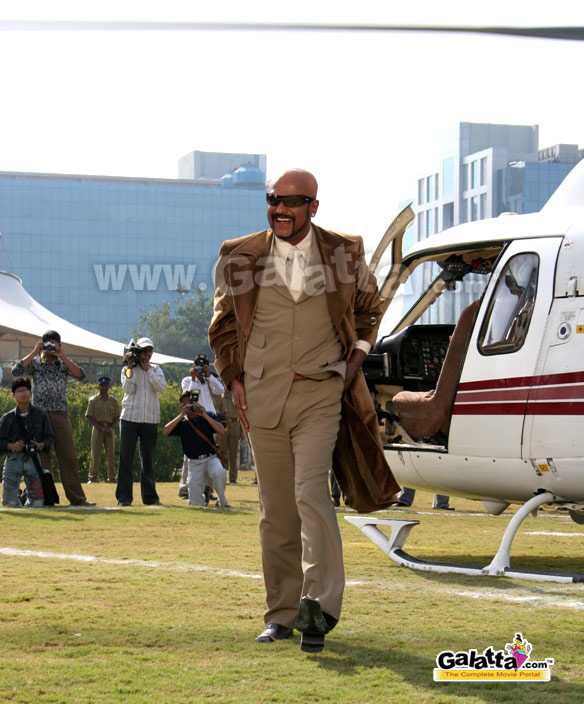 About

Sivaji
Corrupt police and politicians target a computer engineer for trying to better the lives of less privileged citizens.
Sivaji Movie review
<
Normally, verdicts for movie reviews are given at the end of the review, but with Sivaji The Boss, one just HAS to be different. In a nutshell, the movie is. SUPERB.
NOT just because of Shankar's screenplay and slick effects - which is all there in skill and abundance...
NOT just because of how fantastic Superstar Rajni and Shriya look - which they do...
NOT just because of how amazing and beautiful the sets in the movie are, especially in the song sequences - which they are...
But because of ALL of the above, and most importantly - Superstar Rajinikanth's super-cool new look, with the same much-loved personality, the hilarious and whistle-worthy humour and punch-dialogues and "semmai" action sequences.
Yes, Sivaji The Boss is a must-watch. Rajinikanth is back with an explosive BOOM with this movie, which is far removed from the quieter Chandramukhi. In Sivaji The Boss, he is everything you want and everything he has hasn't been before - the same super style, but done differently; the same super action, but executed with more super effects; the same good over evil tale, but one that's an "athiraedee"!
The story is quite simple - the struggles of a man who has made his millions the hard way outside India and now wants to use it for the good of his people back home.
Sivaji Arumugam is a poor man's son, who has come up from a very humble life. He has made a fortune in the US and has now returned to his homeland India for good. Here, he wants to put his wealth to good use for the benefit of the common man and bring about change through quality education, medical services and self-employment - by starting his own conglomerate that makes these happen. His budget is Rs. 200 crores and he proceeds to find out the very hard way, the molasses-like sluggish movement of government procedures and obstacles at every turn. He tries his best to do it the right way, but is thwarted everywhere. His constant companion Mama (Vivek) is the one true friend he has in these tough times.
Adiseshaiah (Suman), a man who he thought was a good man, is his most vile and backstabbing enemy. This sauve villain throws every heavy weight, from government servants severely bribed by him to violent goondas, in Sivaji's way, only to find that this seemingly-docile man (dormant tiger?) withstands his assaults splendidly - with a shrug and a smile.
Along the way, Sivaji encounters Tamilselvi, his dream woman. She's everything he wants - a true Tamil girl, beautiful, resplendent with the culture of the region. it's a tough task to convince her to be his, but he wins.
The rest of the story is about how his struggles continue and yet, he fails in the end. then decides, at a flip of a rupee coin (a very interesting background to this that one MUST see the film for), that he will give back as much as he has been given, that he will pay back the villains in their own coin. A new Sivaji - new look, new attitude and new plan - is born. How he goes about achieving his goals, how he takes his revenge on the bad guys and teaches them a lesson, how he crushes their every negative push under his feet, is what Sivaji The Boss is about.
The look and feel of the film is, needless to say, SLICK. Shankar has made Rajni look fabulous - reminds us of the good ol' Morattu Kaalai, Basha, Padayappa days - whether in his traditional stylish Rajni look or the modern 21st century one.
The humour is STUPENDOUS - Vivek is simply hilarious. Rib-tickling, tongue-in-cheek, off-the-seat-rolling and SUPER STYLISH humour. In fact, he is shoulder-to-shoulder with Rajni throughout the movie and equally important at every step. The way he has his own "punch" dialogues for Sivaji, the way he gets everyone in tears of laughter with just a sentence, makes him worth more than just one watch!
Not only Vivek, but various other characters and scenes in the movie ma