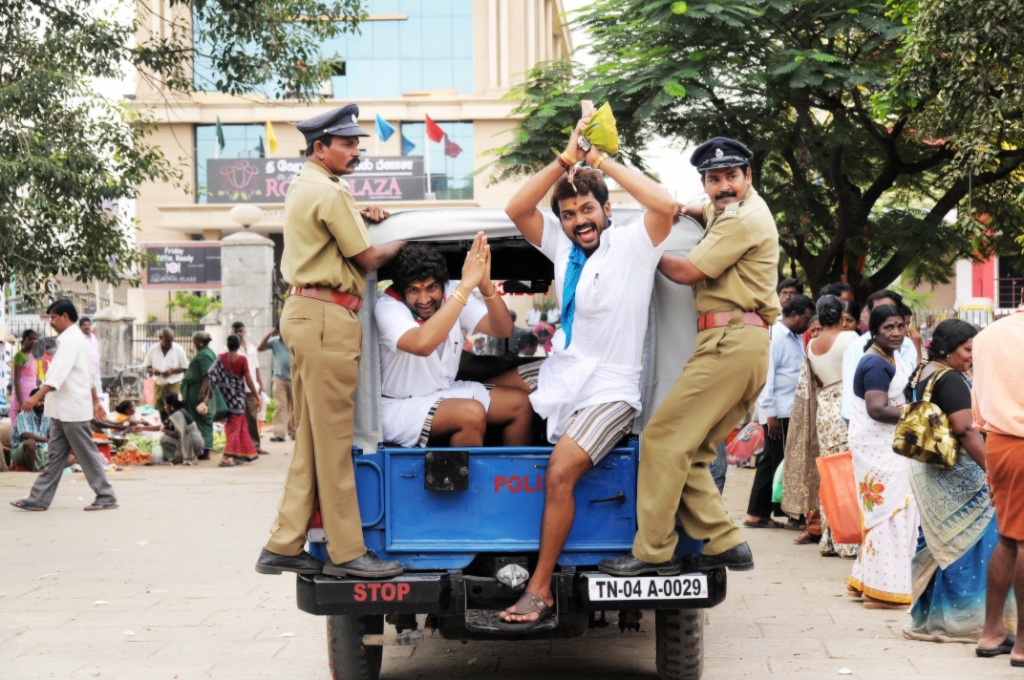 Siruthai Movie review
Ravi Teja, Anushka Shetty, starrer Vikramarkudu (Telugu) was a blockbuster in 2006. Siruthai, born out of Vikramarkudu, is Karthi Sivakumar's first movie in which he plays a dual role. Catchy one liners from Siruthai is already popular, which is a good indication that the movie will attract public admiration.
Karthi as Rocket Raja is a fraudster; along with his partner Kaatu Poochi (Santhanam) he outsmarts anyone to make a quick buck. Cruising homes, public places, offices and weddings, they weave smart tales and escape with valuables and money. Though criminals, the happy- go-lucky duo rely on their smartness over violence. When Rocket and Poochi gate crash into a wedding to steal valuables, they encounter Shwetha (Tamannaah ). Rocket, who had challenged the women in his neighbourhood that he would only date a girl of fair complexion, is smitten by Shwetha.
Rocket and Poochi continue their tricks till they meet a kid who claims she is Rocket's daughter. Confused, Rocket takes the girl home, but is perplexed when some mystery men try to kill him and another group tries to save him. Rocket senses that there is something grave behind these episodes and believes it might be a case of mistaken identity. True to his beliefs, the other Karthi is Rathinavel Pandian IPS, a police officer from Andhra Pradesh. Flashback begins!
Pandian, a sincere and courageous police officer, had dealt the criminals in his district with an iron hand. He was able to tackle the organised crime in the district which his colleagues had preferred to ignore. Encouraged by Pandian's courage, his colleagues rallied behind him and enforced their authority. The goons, angered by the sudden opposition of the police, tried to eliminate Pandian, who survived though seriously injured. His subordinates, fearing for his life, hid Pandian in Tamilnadu. Now the goonda raj in Andhra is again let loose as Pandian is out of circulation. Pandian's subordinates request Rocket Raja to impersonate Pandian and put an end to the goonda raj permanently.
Siva's Siruthai is a full blown entertainer. Karthi as Rocket Raja and Santhanam as Kaatu Poochi let loose a laugh riot. Karthi has overtaken his elder Suriya in playing humour roles. This is another memorable role for Santhanam after Nalla Thambi in Boss Engira Bhaskaran. Santhanam is the best sidekick in Kollywood. The movie is fast and engaging; never does it stagnate. Though Kollywood has an abundance of double role movies, director Siva needs applause for presenting this with a fresh perspective. Karthi excels in his performance as a merry fraudster and a fiery cop. Karthi has carved a niche for himself in Kollywood and there is no looking back for the zstar. The witty one liners in the movie will monopolise our vocabulary for quite some time. With Siruthai's songs already a hit, the video songs are a bonus.
The negatives points: Tamannaah as Shwetha fades away in the movie without much importance. The villains are dreaded and fearsome, when they appear against Pandian, but they turn out to be clowns when they fight Rocket Raja. Karthi as a police officer presents the overused, bashing up action of 50 odd people, without the slightest indication of fatigue. Siruthai will be remembered as one of the most entertaining movies in Kollywood and is Karthi's confirmation as an A grade actor, a worthy competitor to Suriya; Karthi has risen.
Reviewed by: Petson Peter