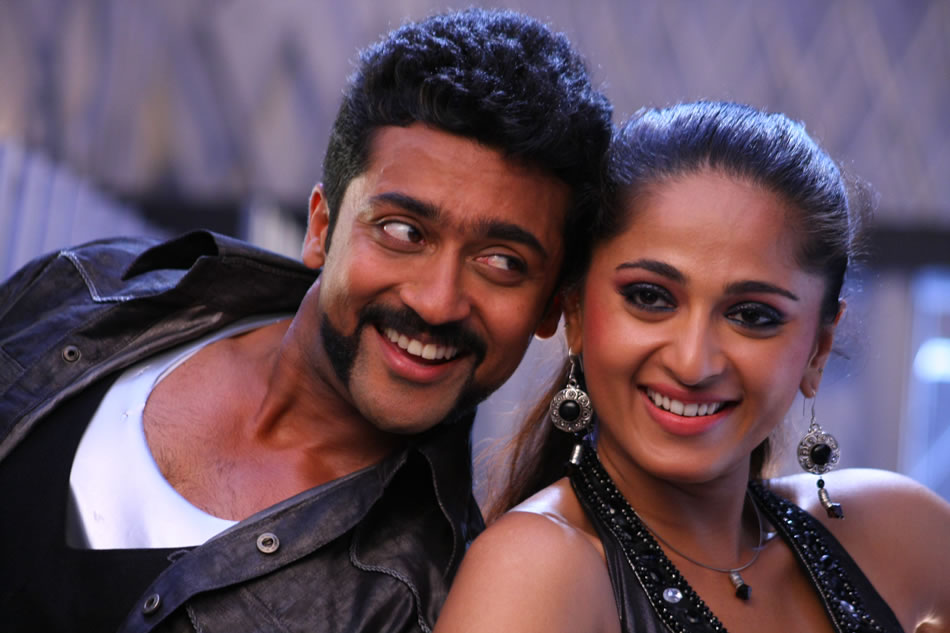 About

Singam
A police officer is on a mission to apprehend a local M.L.A.
Singam Movie review
Suriya is one actor who likes to experiment with different get-ups on screen. Whether in Kaakha Kaakha, Perazhagan, Pithamagan or Vaaranam Aayiram, the actor has done everything with ease and panache. Singam is Suriya's 25th film, directed by Hari. The actor is aiming for a hat-trick after the back-to-back successes of Ayan and Aadhavan. The Hari-Suriya duo is also aiming for a hat-trick after the success of Aaru and Vel. For the first time after Kaakha Kaakha, Suriya is playing the role of a police officer. It's a Hari flick, so get ready for some racy action sequences!
Who is in it?
Singam is about an honest cop Duraisingam. He wants to run the family business, namely running a provision shop and convert it to a huge departmental store. But his father's (Radha Ravi) ambition is to make his son a police officer. Suriya does become a police officer, bowing to his father's wishes; then what happens?
We also have heroine Kavya (Anushka), who is modern in looks and traditional in her thoughts; the dreadful Myilvaganam who earns money in all the shortest way possible, an extortionist and kidnapper who also runs 'Kata Panchayat' and a real estate mafia in Thiruvanmayur, Chennai; the hilarious Eetu Yeri Malai, a constable in Nallor for eight years without any promotions.
What is it about?
Duraisingam (Suriya) is a sincere police officer (SI) in Nalloor village near Tuticorin. He wants to run his family's provision shop and convert it to a huge departmental store. But due to his father's (Radha Ravi) wish, he becomes a cop. He believes in compromising rather than being violent. An amiable family, Singam lives at peace with everyone. Kavya (Anushka), daughter of a real estate baron, is on a vacation to Nalloor village to meet her grandparents. After few initial encounters, they fall in love.
Enter Myilvaganam, a dreadful don, earns money through illegal activities. An extortionist and kidnapper, he also runs 'Kata Panchayat' and a real estate mafia in Thiruvanmayur, Chennai. He blackmails top real estate tycoons to get large amounts from them. He is aided by his brother Vaikundan (Aadhi). In one such case, Myilvaganam gets arrested but manages to get conditional bail. The court orders him to appear at Nallur police station and sign everyday. Here, Myilvaganam faces and insults Singam.
Later, Singam is promoted as Inspector and transferred to Chennai where he again meets Myilvaganam. The cat-and-mouse game begins between them. Singam is out to eliminate all illegal activities from the city. What happens when these two meet? Will good triumph over the evil? Watch out in Singam!
The Performances
Hari has once again come up with a racy cop story after Saamy. Singam is a typical Hari flick with all the required commercial elements. Hari's gripping screenplay and punch dialogues make the film more interesting.
As usual, Suriya has given a neat performance and excels in all aspects. This time, Suriya has tried out some gripping dance movements which are really a delight to watch. Anushka looks as beautiful as ever. Apart from the songs, she has few scenes to perform. She is on a double avatar with glamorous costumes in the song sequences and a homely demeanor in the rest of the film. Vivek's Yeri Malai comedy is hilarious! Prakrashraj as the dreadful villain is believable and adds value. His voice modulation and dialogue delivery is one of the major highlights in the film. Nasser, Nizhalgal Ravi, Vijaykumar, Manorama, Kingkong, Radha Ravi and Sumitra have done their parts well. Devi Sri Prasad's music is a good. His 'Stole my heart' number stands out.
Rocky Rajesh's choreography and Priyan's cinematography need special mention.
The Verdict
Director Hari has come out with a mass commercial entertainer. Though neither a Khaaka Khaaka nor a Saamy, Singam is very different, yet entertaining and gripping. Overall, Suriya has given a neat commercial entertainer as his 25th film, a sure hat-trick for the Suriya-hari duo. This Singam really roars!
Review by Ambili S.
Please note: Every review on Galatta.com is written by the person who has watched the movie. Therefore, while conscious effort is made to give a fair, unbiased and ethical opinion, every review will have a personal element and opinion to it. Ultimately, every movie experience is a personal one and readers should watch each movie on their own terms.