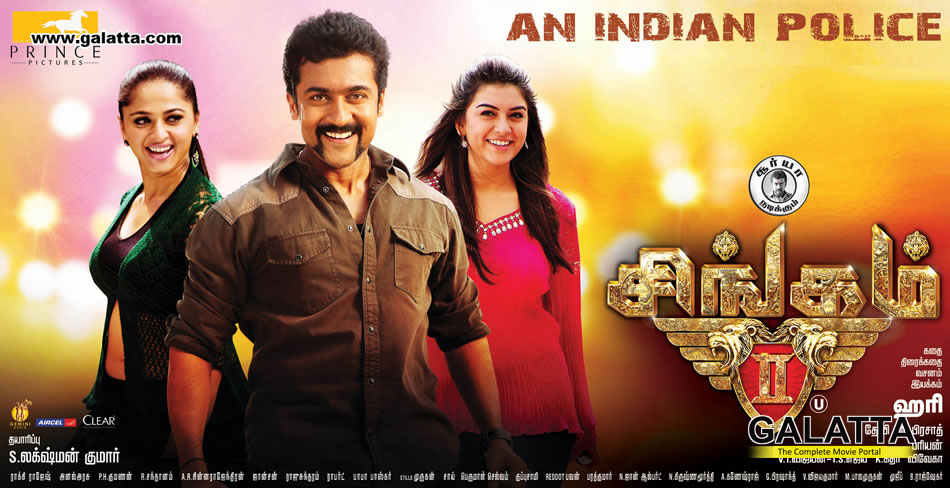 Singam II Movie review
The no-nonsense cop is back with a bang again! When director Hari announced a sequel to his blockbuster action entertainer Singam, we all knew that the team is ready with another treat for their fans. With more than a year in the making, Suriya has mentioned in many interviews that getting rid of the Duraisingam hangover was even more tougher than playing the role. Santhanam, Hansika, Rahman and Danny Sapani are the new additions to the earlier starcast. So here we take a look a]t the plot...

THE PLOT: The sequel begins where Singam ended... Duraisingam (Suriya) is now on a secret mission to Tuticorin to find out more on the illegal smuggling of weapons. There, he earns the wrath of Bhai (Mukesh Rishi), the local smuggler. Then there is Susa (Santhanam) and Sathya (Hansika), business tycoon Thangaraj's (Rahman) cousin. Singam also has a small flashback which reveals the reason behind the delay of his marriage with Kavya (Anushka).

With the help of Susa, Singam gets a clear picture of the local happenings and finds out that illegal weapons are just a cover up for their real business, which is 'brown sugar trading'. And the mastermind behind all these is Danny (Danny Sapani), an international drug peddler who now wants to be the kind of Indian Ocean. and obviously he locks horns with Singam. With the help of a newly formed squad, Singam now decides to take on Danny, Bhai and their men. The rest is up there for you to watch and enjoy.

THE HIGHS: Suriya, Suriya and Suriya! It is completely his show... He carries the film to the winning post. He simple heaves, screams, thrashes villains and even mouths punch dialogues. His passion to deliver a role with perfection is surely a lesson for other heroes. Though Hari's screenplay follows age-old formula, his comfort in mass masala entertainer and confidence really need a special mention. There is no doubt that he is the master of ultimate commercial pot-boilers. He has kept the screenplay tight make the film more racy, which actually works well. Though the ladies doesn't have a bigger role to play, both Anushka and Hansika (as a schoolgirl) have done their part well. Santhanam and Vivek evokes laughter in bits and pieces. Danny Sapani as drug peddler is fine, Rahman is amazing and Mukesh Rish has perfectly played his part. Devi Sri Prasad's music is serviceable with 'Singam dance' being the highlight. The actions scenes are over-the-top but well choreographed. Priyan's camera works are good. Other characters which impresses are Mansoor Ali Khan. who plays a good cop (for a change), Vijayakumar, the minister, Nassar, Radharavi and K. Vishwanath as CM.

Suriya-Hari is back with a bang, bang! Singam 2 is a paisaa vasool potpourri!