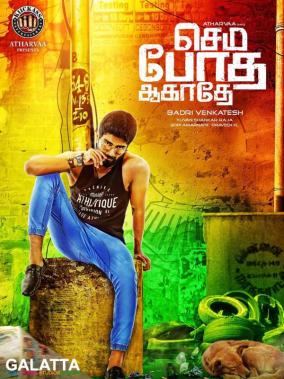 Semma Botha Aagathey Movie Cast & Crew
Cast :
Mishti Chakraborty,Anaika Soti,Karunakaran,Atharvaa Murali |
Production :
Kiickass Entertainment |
Director :
Badri Venkatesh |
Cinematography :
Gopi Amarnath |
Story Writer :
Badri Venkatesh |
Screenplay :
Badri Venkatesh |
Music Director :
Yuvan Shankar Raja
Semma Botha Aagathey Movie review
Semma Botha Aagathey is an Tamil action stoner thriller film directed by Badri Venkatesh. Dialogues are written by G.Radhakrishnan. The film stars Atharvaa, who also produces the film, while Mishti and Anaika Soti portray the leading female roles. Featuring music composed by Yuvan Shankar Raja, the film began production during January 2016 and is released worldwide on 29 June 2018.
Atharvaa gets high due to love failure. Hops in a call girl to his apartment by listening to his friend's idea. The protagonist gets stuck with a major problem during the incident. How he resolves it forms the remaining story.
Atharvaa has no big scope to prove the performer in him, he has played his part decently. Anaika Soti has done a bold call girl role, her portion is not exaggerated just for the sake of it. Debut heroine Mishti finds it difficult to manage her lip sync. Her portions act as big speed-breakers in the first hour.
Karunakaran's comedy stands tall surprisingly, his counters offer plenty of instant laughs. His combo episode with Chetan and Mano Bala are fun as well. Devadarshini and M.S.Baskar entertain in their given measured space.
John Vijay has delivered over-acting which makes his appearance very artificial. Yogi Babu is underused, we are aware that the movie was shot a year ago, still it was disappointing to see his presence as an atmosphere artist.
Villain character is too thin and has no substance. Also, the killer is easy to guess in the initial moments itself. Dragging out the suspense element as if it is unpredictable was an unwanted act. The intention is also an age-old and a much seen one.
There are many unwanted characters added up just to fill the vacuum, they don't have proper clarity or goal for their existence. Few decision made by them are unclear and have no proper justification.
Script follows the regular mystery thriller path, which misses out to surprise in the progression. Screenplay is weak that travels only on the straight route. G.Radhakrishnan's dialogues are blunt without apt points. Logic loopholes are present almost in every scene.
Yuvan Shankar Raja's songs are not so pleasing, in fact the listen isn't attractive. But he has provided a satisfying score to the flow. Camera work is simplistic without any different approach, but the output is convincing.
The main shortcoming happens to be the editing, the concerned department had many opportunities to hold the audience but nothing falls on their way. Scene in the end title card that gives a lead to the sequel is totally unnecessary.
Thumbs Up
Karunakaran's entertaining humour
Scenes of Mano Bala, Chetan, Divyadarshini and M.S.Baskar were fun
Thumbs Down
Age-old script and treatment
Dull screenplay that bores out the show
Unimpressive songs and technicalities
Falls short of logic and weak villain characters
Tags: Atharvaa Murali, Karunakaran, Mishti, Anaika Soti, Semma Botha Aagathey