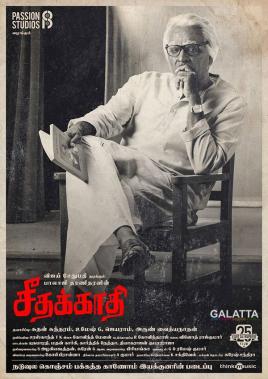 Seethakaathi Movie review
Vijay Sethupathi is a stage drama artist and he is very popular in his field for his acting skills. What happens in his life in his old age and the consequences of it forms the remaining story.
Vijay Sethupathi deserves a standing ovation for taking up this stage artist character and a big actor like him need real guts to act in this 40 minutes appearing role. He never seems to be missed on screen as his character still lives and occupies the story. The 8-minutes long 'Aurangazeb' single shot scene is noteworthy for its performances. How the mass crowd disappears for stage-dramas as years pass is beautifully conveyed in the title card. The reason for the title Seethakaathi is very clear after watching the movie.
The opening forty minutes has a life but it might test the patience of the audience as the narration is too sluggish till a point. And, after a crucial incident, the story picks up the pace and decently engages till the very end. The core idea is unique, fantastic and is sure to excite the viewers. The screenplay is convincing as there are proper justifications for its partial slow portions. A few elements kept in the storyline are far from reality and hard to believe too. Some fan moments close to the interval block are also a bit artificial. The attempt is genuine and fresh. Also, the product is presented well with sensible dialogues and neat direction.
There are some memorable scenes in the movie such as Rajkumar's park scene, Sunil's romance scene News 7 debate scene, and Mahendran's courtroom climax sequence that offers non-stop fun and moves forward the story as well. The long-drawn-out fight scene right after the interval is required for the plot but it dulls out the momentum. The film leaves a positive message and conveys the bitter truth at the same time. The performances are commendable.
Vijay Sethupathi is the pulling factor and his 'Ayya Adhimoolam' character is sure to stay. Through this movie, we have got an opportunity to witness some not-so-utilized efficient actors. The transformations of Rajkumar and Sunil are absolutely top-notch. The stage drama actors, the side actors who played the assistant of the hero and director have done their part extremely well. Director Balaji Tharaneetharan has pulled off things in good fashion. The cameo appearances of famous public figures are nice to watch.
Music director Govind Vasantha can be mentioned as the hero of this flick, his background music is lovely, soulful and maintains a perfect genre-specific feel throughout the progress. The songs are montages but they could have been better. Camera work is rich and helps in the storytelling process. The edit cuts are satisfying but the movie could have been crisper at some areas of both the halves and 2hrs, 52mins feels lengthy.