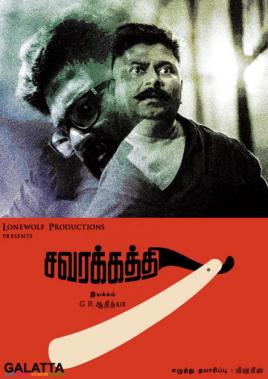 Savarakathi Movie review
The idiom "don't judge a book by its cover" is the most appropriate way to describe Savarakathi to put it short. Directed by filmmaker Mysskin's brother G. R. Aathityaa, the film marks his debut and a fine start to his filmmaking career indeed.
At no point during the course of Savarakathi do we get the notion that this is a film made by a newcomer as he has tapped the fine line between creating a riveting story along with a balance on the emphasis on each of the characters.
Savarakathi has filmmaker Ram playing the lead as a barber and is married to his wife Poorna, who is deaf with two children - a boy and a girl and, are expecting a third child soon. The story starts off with Poorna informing Ram that her younger brother is secretly getting married and they set off to the temple thereafter. It is then when a car crashes with Ram's bike and he picks a fight next with those in the car. It is revealed Mysskin, who is out on parole was in the car and this leads to a hot confrontation between him and Ram leading to the former seeking vengeance for the humiliation.
The outcome of this confrontation is precisely what Savarakathi is all about, but narrated in a humorous and hilarious manner. It is no easy task to churn out a plot that revolves around characters who are filled with their own motivations; let alone delving into the characteristics of each of the prime and supporting characters.
The film's plot gets twofold engaging when it is presented with a lot of humor which is not an art that is easy to be cracked. Director Aathityaa is without a shadow of a doubt the man of the hour and deserves full credit for giving us a film that will in quicktime be deemed a cult classic.
One area that elevates Savarakathi to a whole new level are the rich and exemplary performances by filmmaker Ram in the titular role, Poorna and Mysskin. Not only have they presented themselves in an excellent manner, but each of them have gone on to leave a strong impression in our minds.
You could even say Ram is the equivalent to Sridevi in Moondram Pirai where Kamal Haasan comes in and steals the show towards the end. The Kamal Haasan in Savarakathi is none other than Poorna, who has not only dubbed for herself in this film, but has given a performance of a lifetime. As known already, Mysskin's forte are his eyes and he makes the best use of them in displaying the best of emotions known to man.
On the technical front, all the cards fall in the same place - be it V. I. Karthik's cinematography or S. Julian's editing, the two have understood the director's vision and have complimented his necessities to the story with appropriate and adequate inputs. Arrol Correli's background score is excellent and melds well with the screenplay penned by Mysskin.
To call Savarakathi a comedy film might at first glance seem confusing as the promos of the film have rather conveyed a generally gritty tone, but you must watch the film to not miss out on one of the best experiences in terms of storytelling. Each laugh out loud moment in the film is one to cherish and there are plenty to leave you smiling even after you have walked out of the cinemas.
Thumbs Up

Highly engaging screenplay
Excellent performances from Mysskin and especially Ram and Poorna
Several laugh out loud moments
Thumbs Down
Few moments are too loud and could have been toned down to an extent