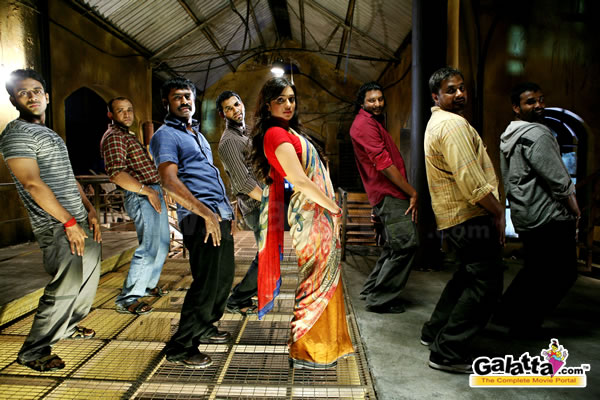 Saroja Movie review
It's quite hard to classify the movie as an action thriller, in spite of the all the gripping moments in a rundown abandoned industrial estate, because the boys with their witticisms keep the laughter coming. Nevertheless, Saroja is an interesting adventure and a fun flick.
Ajay (Shiva) is a TV serial star engaged to Pooja (Kajal Aggarwal). Ganesh (Premji) is a happy-go-lucky guy who is forever falling in love. Rambabu (Vaibhav) is the heartbroken romeo, who sacrificed his love for Pooja for the sake of his friend Ajay. Jagapathybabu (Sharan), Rambabu's elder brother, is married and has a daughter. These four guys are friends and when they get together, it's laughter all the way. Bags packed and booze in tow, the guys hit the road – they have tickets to a cricket match taking place in Hyderabad.
The guys are enjoying the road trip but fate plays spoilsport; midway to Hyderabad, they are caught in a traffic hold up. It will be hours before the traffic will clear, and the boys decide they may as well get back to Chennai, so they'll at least have a chance to catch the match on TV. But Ajay has a brilliant idea. He takes a detour – a small, rugged path that barely qualifies as a road, calling it a ' shortcut to Hyderabad'. By nightfall, the guys are lost and find themselves in the midst of a maze-like abandoned industrial estate.
Meanwhile, in Hyderabad, Saroja (Vega), a class Twelve student is kidnapped. Vishwanath (Prakashraj), her father, is trying to get her back from the kidnapper (Sampath), who has demanded a ransom of Rs. 20 crores. Helping him is his best friend, police officer Ravichandran (Jeyaram).
How do the four heroes get entangled with Saroja's kidnapping? How do they disentangle themselves from the trouble? That is the rest of the story.
On the acting front, all have played their parts well. The young troopers have carried off their roles in a convincing manner. The band of boys combine realism with humour and keep us entertained; Prakashraj and Jeyaram have proved beyond doubt why they are called veteran actors; Kajal is charming; Vega is endearing; and Nikitha is absolutely hot!
Another big highlight is Yuvanshankar Raja's music. The background score and the songs throb with energy. ' Dosth Bada Dosth' is a well-made song in terms of music as well as picturization.
Director Venkat Prabhu has done quite a commendable job once again. He has managed to make a movie that combines action with comedy, without diluting the seriousness of the plot. After a full-fledged fun movie such as Chennai 600028, Venkat Prabhu has notched up one that has quite a fair share of twists, turns and pulse-racing moments. Even so, the comic streak that made his directorial debut a runaway success is what keeps Saroja alive and entertainin