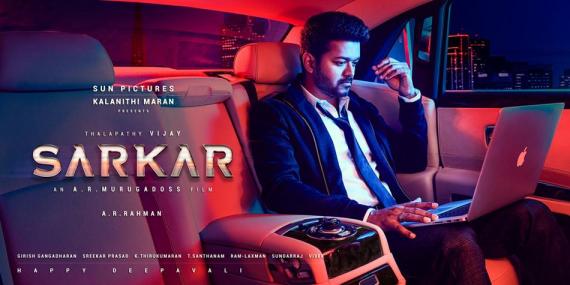 Sarkar Movie review
Vijay as Sundar is the LA-based CEO of a top company. He arrives in Chennai on the day of the state assembly elections to cast his vote. What happens after this forms the story of Sarkar.
With this film, director A.R.Murugadoss has packed strong political content with relevant social issues, however, the packaging is clumsy with many preachy elements that reduce the intensity of the core idea. The randomly placed commercial ingredients make the flow of Sarkar artificial. The proceedings are easily relatable to the current scenario, but they don't gel well with the base plot, hence becoming just partially engaging even though the screenplay does not have too many speed-breakers. With its overdose of messages.
Sarkar tends to come across as too preachy although a few facts have been conveyed neatly as dialogues. There are a few awe-inspiring moments which get elevated by Thalapathy Vijay's mannerisms, but overall the content doesn't tick all the right boxes. Sarkar's heroism is OTT in places, with random people praising the protagonist on a frequent basis. But, with due credit to his experience and prowess as a performer, there are areas where Vijay has smartly underplayed as well. The situations are not memorable and hence some of the decent scenes fail to impress.
Sarkar shows Thalapathy Vijay in top form, striking gold with his screen presence, both with his royal mannerisms and also when things turn serious. His performance while struggling for society, his dialogue delivery when he explains the reality and his energy during the fight sequences are all exhilarating to watch. It needs real guts to act in such a bold role as a man who speaks out about the dark reality of our society.
Keerthy Suresh travels alongside the hero almost throughout the movie, but her character does not create any impact. Varalakshmi Sarathkumar's character is seen hero-worshipping for the most part, while coming to the limelight only towards the end, but by then, it's already too late to impress the audience. Premkumar does a brief cameo. Radha Ravi rules the screen whenever he appears and Pala. Karuppiah has also done complete justice to his role - it is safe to say that the two actors have literally lived as experienced politicians. Yogi Babu's potential is not fully used in Sarkar since there is precious little scope for him to perform.
A.R.Rahman's songs are in the satisfactory range; except for 'Oruviral Puratchi', the rest of the tracks lack in repeat-value. But, the Oscar winner has hit the bulls-eye with background score - the music is apt for each and every scene. Girish Gangadharan's camera work is lovely, he has beautifully captured the slow-motion shots. He makes a solid Kollywood debut with his excellent work in angles and colors as well. Sreekar Prasad's editing is convincing, but the movie overall has a long drawn-out feel.
Vijay looks super stylish in every frame, and we must also credit his hair and makeup crew and stylist for making him look so fabulous. Art director T. Santhanam has treaded with care and has done justice to the responsibility given to him. Ram and Lakshman's stunt sequences go overboard in many places, but still, the showcasing is delightful to watch. The interval scene was a big disappointment as it was repetitive. There were many chances to score in the society-based scenes, but it all becomes a big missed opportunity as the portrayal is artificial.
Watch Sarkar video review here.