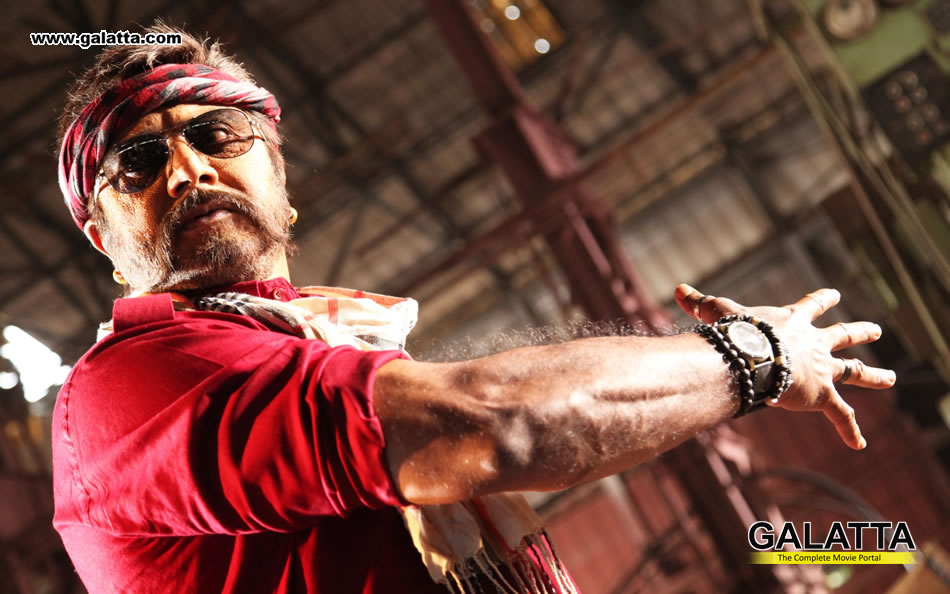 Sandamarutham Movie review
The much talked about Sandamarutham, starring Sarath Kumar in dual roles with Oviya, Meera Nandan and Samuthirakani as also a part of the cast, hits screens today. This movie, produced by Radikaa Sarathkumar and Listin Stephen's Magic Frames, is directed by A, Venkatesh and has music by James Vasanthan. An interesting aspect of this movie is that Sarath Kumar himself has written the story, while veteran suspense novelist Rajesh Kumar has penned the screenplay and dialogues.
The movie opens to Kumbakonam, where Sarveshwaran (Sarath Kumar) a local don, decides on disputes and controls things. He has innovative ways of disposing off with his enemies, but leaves no trace. Despite not having any leads, the Police decide to follow Sarveshwaran to see if he is behind the murders. Samuthirakani, a talented Police officer from Coimbatore is transferred to Kumbakonam to take down Sarveshwaran, after the Police discover a chemically murdered body of a lady during a government tree planting drive. Sarveshwaran decides to murder Samuthirakani and this is when Police officer Sarath Kumar comes into the picture. With a good education and a good job and a happy family in Pollachi, he goes undercover to take down Sarveshwaran. Meanwhile, some foreign powers are at work in hand with Sarveshwaran, to create terror in India. What has made Sarveshwaran so bitter? Can the undercover Police officer overcome Sarveshwaran? Will the country be saved from the terror attacks? Watch Sandamarutham to know...
Director A. Venkatesh and Sarath Kumar have a long and successful history and they come together for the fourth time, in this movie. The story, written by Sarath Kumar, has a lot of things thrown into it. The reason behind Sarveshwaran's negativity is emotional. Sarath Kumar just seems ageless and his yet another double role, is exceptional. He carries the movie on his shoulders. Samuthirakani gives an admirable portrayal. The leading ladies, Oviya and Meera Nandan, have presented neat performances. Veterans Radha Ravi, Kadhal Dhandapani and Delhi Ganesh, play very vital roles. Imman Annachi and Thambi Ramaiah provide the comic relief. James Vasanthan's music is commendable.
Sandamarutham is a unique offering by the Supreme Star. Don't miss it.