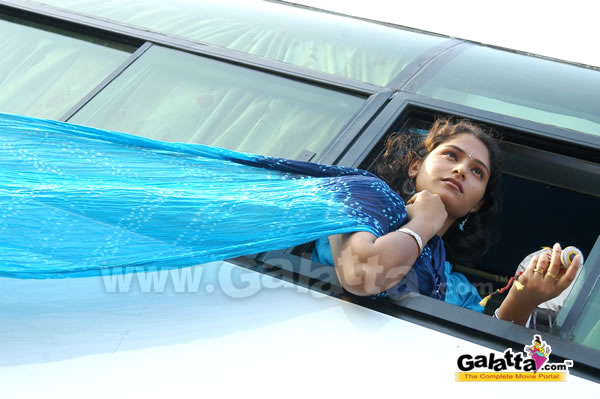 Samedaa Movie review
Samedaa's top feature is its backdrop. Shot entirely in holy Kasi (also known as Benares and Varanasi), the film takes the audiences through a tour around its chief locations; we glimpse the river Ganga along with its swarm of visitors, the city's dingy, old-fashioned houses and lanes that are forever abuzz with tourists and the smart, traditional Panditjis who guide these tourists to perform their karma while striking a good business deal and exploiting them.
Sami (Sembi) is an illiterate and helpless orphan who arrives in Kasi. Sami joins the gangster group headed by Maaji (Hamsa Devi). Having been alone and looking after himself throughout his young life, Sami has developed self-reliance and a strange and overwhelming power. Using this power, he defends Maaji's group, protecting them from some serious problems and dangerous influences. Impressed with his skill and devotion, Maaji promotes him and appoints him as her bodyguard. As a mark of deep gratitude that Sami owes to Maaji, he pledges to defend her from all her problems and the group from all the impending dangers. His fiery stunts and merciless killings make him notorious and menacing. For Maaji's enemies, Sami is a terror in all respects.
Though a callous thug and murderer, Sami longs for true and protective love. When he finds it in Dhanushya, he immediately falls for her. Sami and Dhanushya's love affair goes stronger by the day; completely involved in it, Sami is frequently absent from his duties. Eventually, when Sami fails to complete some important assignments, Maaji comes to know about his affair.
Sami and Dhanushya's wedding is fixed. When the arrangements are progressing, Sami, in one of his action missions, goes to face Poori Babu, a notorious rowdy with a long history. Trying to avoid blood and gore, Sami tries offer Poori a truce. But Poori Babu refuses and orders his crew to murder Sami. Involved in this bloody fight to the death, Sami does not arrive at the wedding venue. What happens to Dhanushya? Does Sami get killed? Does his mission continue? Watch Samedaa to know!
Srinivasa Reddy's camera angles add a lot of meaning and dimension to Samedaa. Sembi, who acted in small bit roles till now, has debuted as action hero. His hard work speaks for itself. Heroine Dhanushya's performance too is remarkable. Director Vadivudaiyan has taken up a clichéd action theme for Samedaa. The intrinsic beauty of Kasi is evident in every frame. However, the locale does not particularly boost the theme in any way. As a package, Samedaa comes out as an average entertainer.