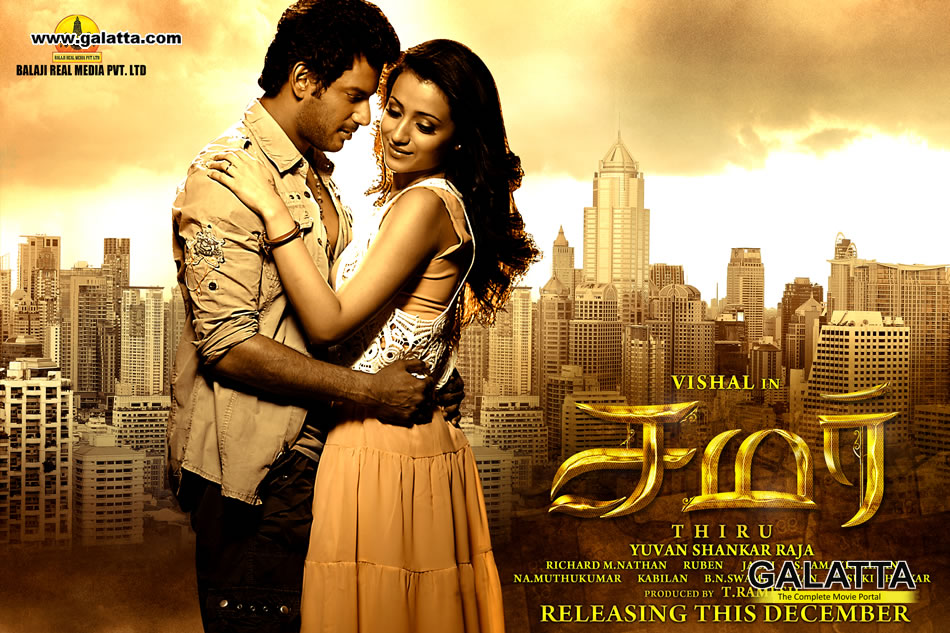 Samar Movie review
Samar - Vishal's latest offering, just rocks! There's a saying, "Life is a game!" But what if the game is played by others? Shakthi (Vishal), a trekker and a forest guide in Ooty, is a man in love with nature! His love for the flora and fauna overshadows his love for Roopa (Sunaina), who breaks up with him! Roopa leaves for Bangkok after the break up, and Shakthi returns to his normal life! One fine day, Shakthi finds a letter for him from Roopa, with a letter and a flight ticket, asking him to come to Bangkok! Shakthi meets Maya (Trisha) at the airport, and she helps him reach Bangkok! Maya proves to be a major help to Shakthi, even after he reaches Bangkok! Shakthi's wait for Roopa to turn up, becomes futile! Suddenly, Shakthi's life takes an unexpected turn! He is hunted by a gang! Saved by another gang! Told that he is a multi-millionaire! Has attempts made on his life! Life just becomes a series of completely unexpected twists and turns for Shakthi, and his only source of support is Maya! Shakthi doesn't know whom to believe, what is real, and what is not! What do J.D. Chakravarthy and Manoj Bajpai have to do with all that is happening around Vishal? Watch the movie to find out!
The lush green locales and beauty of nature, the hustle and bustle of Bangkok and Pattaya, and the gripping happenings of the tale, keep the viewers glued to their seats! Richard M. Nathan has captured the best of all locations with his camera! Yuvan's music and background score are in tune with the pace of the movie! The 'Poikkaal Kudhirai', and 'Azhago Azhagu' songs were already chartbusters, and the visuals only reinforce their position! Director Thiru, who has also penned the story and screenplay, has done a wonderful job! The plot has a number of twists and turns, and even at the half-way stage, the viewers are kept guessing what would happen next! Sampath, Jaiprakash, John Vijay and Srimaan just breeze through their roles! Though J.D. Chakravarthy and Manoj Bajpai seem a little under-utilized, their presence ups the ante in Samar! The entry of this duo, makes for some compelling viewing! Sunaina, though having just a few scenes, impresses! Trisha looks fabulous, and as young as ever! She plays a vital role in the movie, and has carried her role with ease! Vishal is at home in the emotional and action sequences!
If you want to spice up your Pongal with a racy, suspense filled ride, Samar is just the movie for you!