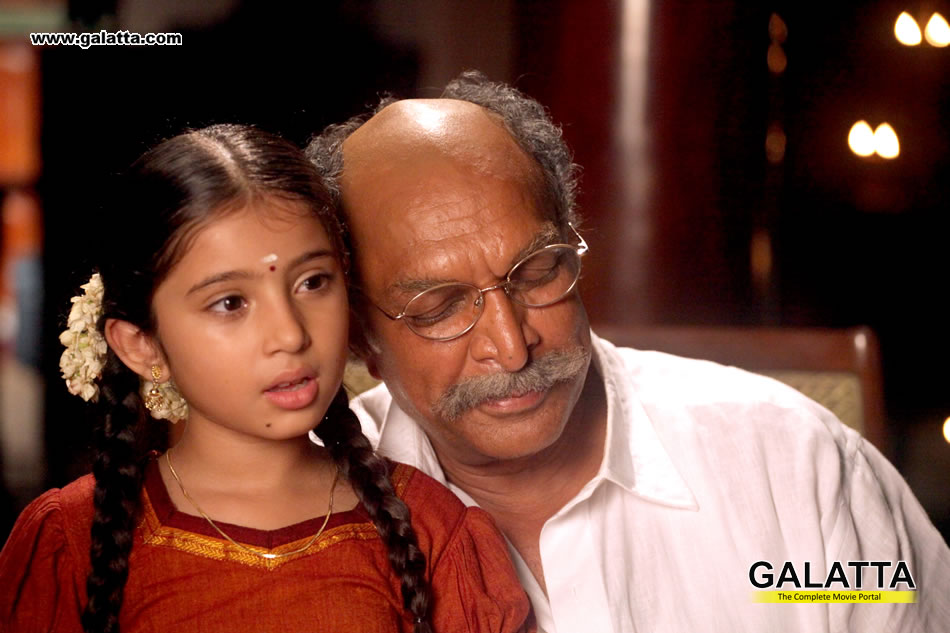 About

Saivam
This film revolves around Kathiresan (Nasser) and his prayers for bringing his family together once again in the light of the carnival that happens in their village every year to celebrate Siva Rathri.
Saivam Movie review
Very rarely there comes a film that enriches family values and brings us closer, it is so humble in its way of storytelling that even the little things we almost forget about living together as a family we instantly start to miss. In its entire innocence director Vijay's Saivam is one such film.
Produced by AL.Alagappan and distributed by Red Giant Movies Saivam stars Nasser, Baby Sara, Luthfudeen Basha, Twaara, Ray Paul, George, Malathi, Suresh and Kalyani in pivotal roles. Music is scored by G.V Prakash Kumar and lyrics have been penned by Na.Muthukumar. Cinematography for this film has been handled by Nirav Shah.
This film revolves around Kathiresan (Nasser) and his prayers for bringing his family together once again in the light of the carnival that happens in their village every year to celebrate Siva Rathri. Kathiresan and Visalakshi are parents of three sons and a daughter who have made families of their own and have gone away to the cities and even other countries except for their last son Kumaran (Vicky) who still lives in his parent's house along with his wife Thenmuzhi (Suchitra) and daughter Tamilselvi (Sarah).
Tamil as her Grandfather calls her is the golden child in their household. She names all of the animals in their house and keeps them so close to her that no one even has the heart to slaughter or sacrifice them. Tamil's personal favourite is PaaPaa a hen that she keeps setting free.
When all members of the family finally arrive at the Kathiresan household he is more than ecstatic to see a full house. Soon after their arrival they set off to visit their ancestral temple and amidst their visit Tamil's dress catches fire and they consider this a bad omen.
The temple's priest tells them if they have any unfulfilled promises they made to their family god Karuppan they should immediately fulfill it. That's when they get to talking and realize they promised Karuppan that they would sacrifice a hen if all of them made it safe from an accident they got into three years back. To get rid of the bad omen that seems to be following all of them around they decide to sacrifice PaaPaa on the day of the carnival. The very next day all hell breaks loose as they find PaaPaa to be missing. Do they find PaaPaa? Do they sacrifice the hen to their god? Does this break Tamil's heart? Does this incident brings the family closer or drives them further apart? Watch Saivam to find out!
This film is definitely one of director Vijay's best. There is a lot of soul in the film and so many beautiful moments to compliment it. It awakens memories of our summer visits to our grandparent's house. it has all the elements of a beautiful family woven together delicately right from the hassles, the ego bruises, a spoilt child, happiness in little things to finding the heart to be together in the bigger picture. It tells us how we have so much to learn from our children and gives us the much needed reality check. Throughout the film there are beautiful messages presented to us in a humble yet hard hitting manner. It shows us how good it feels to do the right thing and it reminds us that one should never forget where they came from. In the end what we take home is an urge to nurture our family and get back to those days when our only worry was to fight to sit on our grandfather's lap first.
Baby Sara amazes us more each day. She fits easily into the character of the golden child Tamilselvi. Nasser is as brilliant as always. Luthfudeen Bash and Twaara have done a good job as well. Kudos to the entire cast as they really do look like a closely knit family!
We see a different Nirav Shah in this film. We see more earthen visuals. There is a little bit of green in each frame and the brown shade of the interiors stand out when it is lit up with the yellow tones of the afternoon. Not only are the visuals more realistic but they also remind us of the golden hour of photography every time we see the rays of the sun passing into the house through the windows. G.V Prakash's music compliments the stunning visuals and brings more soul to the storyline. Uthara's voice brings adorable innocence to the song 'Azhagu'.
Overall this film will leave you reminiscing and get you back to your roots. This warm and well knit family entertainer is definitely a must watch!