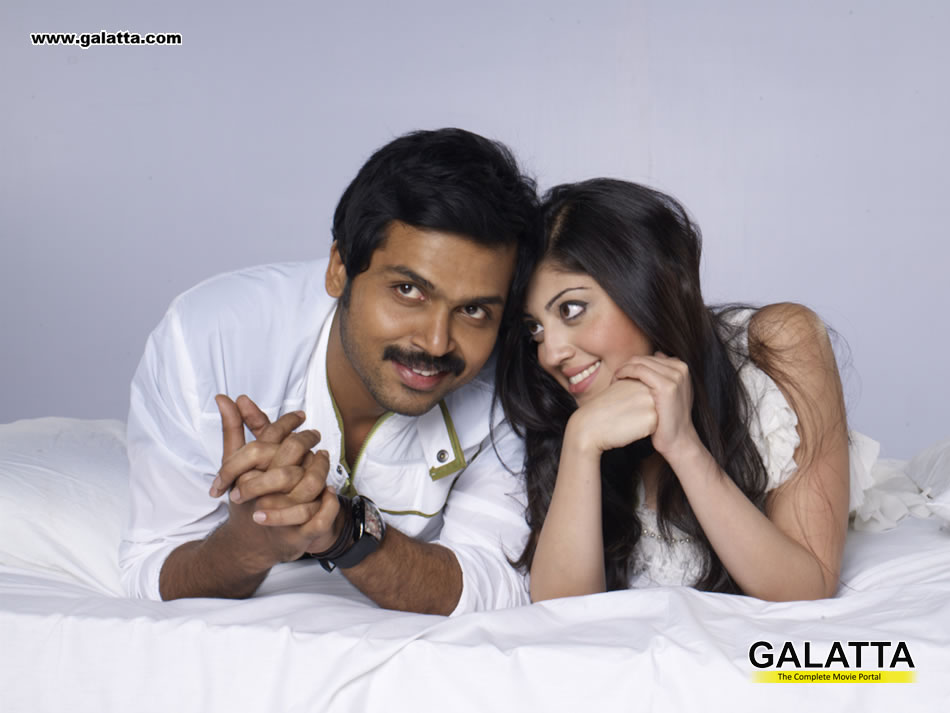 Saguni Movie review
A full fledged political satire is definitely a new thing in Tamil cinema. And obviously that had made Saguni the most anticipated film in recent time. After all the film has hit screens with 1000 prints in Tamil, the highest ever for a Karthi's film. In Andhra alone, the film was released in 400 screens. Apparently the producers have spent more than Rs. 12 crores for the promotion of the film.

The film is Produced by Studio Green/Dream Warrior Pictures/Vendhar Movies and directed by Shankar Dayal N. So what is this hype all about? The hilarious combo of Karthi and Santhanam is back after the blockbuster Siruthai. This is Karthi's first release after his marriage. The film also created headline for the lead character's screen name (Kamal-Rajni-Sridevi) and the change of villain at the last minute.

The Plot: Kamalakkannan aka Kannan (Karthi) comes to Chennai with lots of hope and belief. He is on a mission to save his ancestral home, as the railways has grabbed their land to build subway. But in Chennai, he runs into trouble every time. On his journey, he befriends Rajini Appadurai (Santhanam) an auto-driver who drives him all over the city. Kamal also meets his cousin Sridevi (Pranitha) and eventually falls in love with her. Then we have R K Boopathi (Prakashraj), the crooked Chief Minister who is after money and creates chaos. Over the time Kamal turns into a street-smart rookie who, through his crooked yet intelligent moves, changes the fate of the state. So how will Kamal save his ancestral home? Watch out in Saguni...

Perfomance & Techniques

For Karthi, Saguni is definitely a cakewalk. He talks, walks and fights perfectly. He is introduced as a subtle innocent guy but soon he turns into a mastermind. Santhanam is the second hero and he comes up with an excellent one liner at the right time. Kannada actress Pranitha is gorgeous but unfortunately she doesn't have much to do. After a long gap, Radikaa plays a prominent role in this flick. Nasser as saamiyar is interesting. Kota Sreenivasa Rao and Roja have done their role well while Prakashraj is perfect. P.G. Muthiah's cinematography and Sreekar Prasad's editing works are neat and sleek. But G.V. Prakash's music could have been better.

Director Shankar Dhayal has used the first half to narrate the problem while the solution is narrated in the second half.

Overall Saguni is a neat entertainer with the right amount of masala and humour.