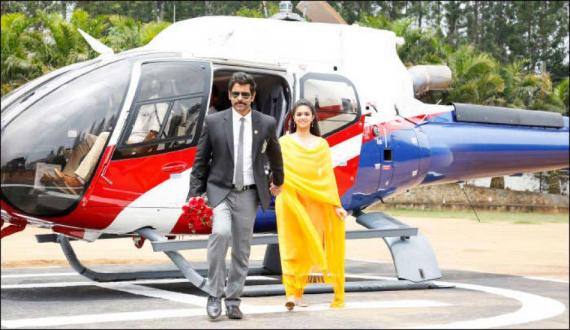 Saamy 2 Movie review
Saamy Square is a Tamil action masala film written and directed by Hari. Saamy Square film stars Vikram in dual roles with Keerthy Suresh and Aishwarya Rajesh as the female leads.
The cruel big shot Perumal Pichai (Kota Srinivasa Rao) is encountered by Police officer Aarusaamy (Vikram) in the prequel with his three sons setting out for revenge for their father's death. The action drama between Perumal Pichai's family and Aarusaamy's family forms the story of Saamy Square.
Hats-off to 'Chiyaan' Vikram for maintaining same look and physique similar to how he was in the first part, which released fifteen years back. His screen presence and dialogue delivery in Saamy Square are absolutely commanding. Keerthy Suresh has played her part well but her presence is just a filler and the love track is not as relishing as one would have expected and has very less scope to perform. Aishwarya Rajesh is quite convincing in an extended cameo as Bhuvana (which was portrayed by Trisha in Saamy 1), but the absence of Trisha has definitely reduced the authentic feel. Soori's humor fails to create laughter or an impact and his portions are speed-breakers to the progression of the plot in Saamy 2. Characterization of Raavana Pichai played by Bobby Simha is pretty strong, but his criminal activities are enclosed at the very beginning and hence the impact is low.
First and foremost, director Hari's storyline drops down as a big surprise and the knot he has tied with the first part is very impressive. The filmmaker has provided his typical brand of presentation, but unfortunately, the formula falls flat this time. The screenplay in Saamy Square is too straightforward and predictable and there are also so many bumps in the proceedings. Dialogues for the protagonist packs a solid punch, but the writing in the comical and dramatic portions are flat. Hari has incorporated a few good ideas in Saamy 2 to set the core plot, but the flow leaves us with mixed thoughts without packing enough intense moments. The first-half builds up the conflict, but the staging is weak with mediocre situations.
Music director Devi Sri Prasad has stepped into the Saamy franchise (Harris Jayaraj was the music composer for the first part) and his album is middling on the whole. Retaining the trademark Saamy theme is a master-stroke and it easily tapped everyone's nostalgia quotient, but on the whole, the background score is sadly monotonous. Cinematographer Venkatesh Anguraj has made the visual output look great as the director has also given him the necessary space. Stunt choreographers Kanal Kannan and Stunt Silva have brought in many cinematic touches to the fight sequences which fails to hold on to the believability factor. Few special effects have been used to uplift heroism, but in turn make things look a tad bit artificial.