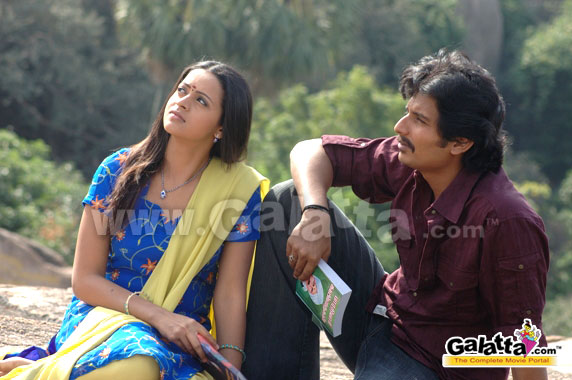 Rameshwaram Movie review
Rameshwaram the seaport witnesses a passionate love-story.
Jeevan (Jeevaa) is a Sri Lankan refugee who has fled from the battlefield of Jaffna. He is one of the refugees under the care of the Tamil Nadu Government, sheltered in the Rameshwaram camp, along with many refugees like him. He arrives at the unknown destination, with no strong connections to fall back on and settles there, looking forward for peace in his shattered life.
Vasanthi (Bhavana), daughter of Lal, owner of the campsite, is a cheerful girl who visits her mother's tomb adjacent to the refugees' camp. During her frequent trips, Vasanthi gets acquainted with Jeevan. Without realizing it, she begins to nurture a deep love for the homeless young man, ready to fill his empty life with her love and company. When Vasanthi voices her feelings to Jeevan, he immediately discourages her, denying his own love for her.
Saravanan (Bose Venkat), a police officer, opposes Vasanthi's love and relationship with Jeevan. Hoping to marry Vasanthi, he keeps the young lovebirds as far from each other as possible. Saravanan displays all his animosity against Jeevan, putting all problems and impediments in his path, with the single ambition to efface his influence from Vasanthi's life.
Consequently, Jeevan and his friends face frequent unwarranted arrests and police remands. On facing this continuous harrassment and burden of false allegations, feeling guilty about bringing trouble to his friends, Jeevan returns to Sri Lanka.
Sudden news about Vasanthi's wedding brings him back. His efforts and patience get rewarded and he unites with Vasanthi.
Jeevaa marvellously portrays the pain, devastation, and identity crisis that boil inside him; his costumes, his gestures and the passive tone he emplys, all summarize his status as a refugee. It is good to see
Bhavana filling the frame in traditional, lovely attire. She has done full justice to her role. When she boldly defends Jeevan from Saravanan's interrogation, saying, "He spent the night with me in bed," her impressive performance gets particularly noticed. In spite of all these plus points, the film does not give enough rationalization for the love that blossoms between Vasanthi and Jeevan.
Music by Niru is refreshing and appealing. Story, screenplay and direction are by S. Selvam.
Rameshwaram, a touching love-story, will be a milestone in Jeevaa's career.