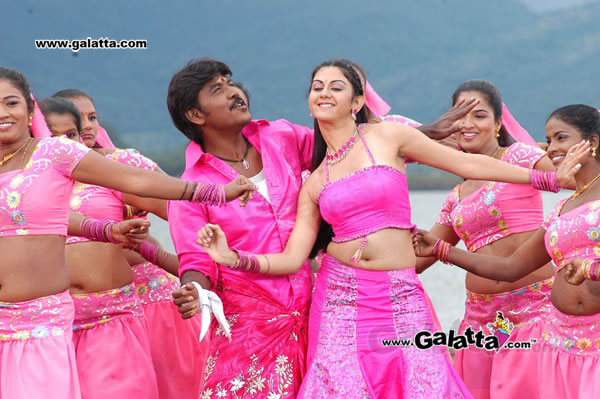 Rajathi Raja Movie review
It is a fact. The success of any commercial film depends hugely on some ''mass masala factors'' which constantly keep changing with existing trends and cinema culture. Glamour and action are, of course, among those necessary factors, but they should be used mainly to back up the script which should be presented in a thrilling manner! In the case of Lawrence Raghavendra's latest offering Rajathi Raja with a subtitle "Low Class King", director Sakthi Chidambaram seems to have worried too much about the so-called commercial elements rather than the script! The film lacks clarity in its story, logic between sequences, genuine comedy and most importantly, a good script.
Rajathi Raja is all about Raja (Lawrance), one among four brothers in a family. The story begins with a flashback; his father is being admitted in the hospital for a major surgery, when Raja is a child. A drunken doctor performs a wrong surgery on his father and consequently, his father loses the ability to move his left hand.
His father later files a case against the doctor, but loses, thanks to the bad influence of his unethical lawyer and corrupt police officer. Later, Raja's father dies of heart failure. Little Raja takes a pledge before his father's funeral pyre that he will educate his three elder brothers to make them true, righteous doctor, police officer and lawyer respectively. While his brothers are away studying, Raja stays in the village with an old lady (whom he calls grandmother) and her granddaughter, who is like a sister to Raja.
Years later, Raja's brothers complete their educations and come back to the village as leading professionals in their respective fields. Raja's doctor brother constructs a big hospital in the city, while his police brother is appointed as the Assistant Commissioner of Police. The story takes a turn when Raja's sister is admitted in his brother's hospital for an operation for which his doctor brother demands 2 lakhs from his grandmother. When it is not promptly given, the doctor demands the amount again, but gets insulted by the old lady before the hospital staff. As revenge, he kills her granddaughter and conceals his crime with help from his other two equally wicked brothers. Later, Raja realizes that his elder brothers are also corrupt. He takes a pledge against his brothers that he will avenge his sister's death. What happens next is the second half of the film.
In the acting front, Lawrence gives a decent performance as Raja and his dancing is brilliant. However, it is high time for him to concentrate more on his facial expressions than dance or fight. The major highlights of the film are the red hot numbers by its lead ladies Meenakshi, Snigdha, Samiksha, Mumtaj and Kamna Jethmalani. Rajathi Raja's glamour race begins with Meenakshi's 'revealing' performances and the dances are really hot. Mumtaj has portrayed the role of minister Shailaja, one of the chief villains in Rajathi Raja. She has tried her level best to give character and depth to the character to meet public expectations. Actor Karunas is in his usual self as Raja's friend. All songs by Karunas, especially 'Varo oruvan' and 'Ezhantha pazham' are superb and well-picturised. T. Rajendran's kind of dialogues in the film is another plus point.
Though Rajathi Raja has all ingredients of a mass entertainer, it has some major weak points too. First, the film has too many twists and turns from beginning to end, most handled quite unconvincingly. For instance, Raja meets Minister Shailaja (Mumtaj) for the first time when she tries to harass his sister, and he gets annoyed by Shailaja's smoking. It looks silly and unconvincing. The comedy scenes are another letdown. The film, as a whole, tends to run like a super fast train, giving the audience no time to enjoy the scenes and dialogues! The director seems to be in a hurry to finish the film without exploring the minute details of the story. In short, watch Rajathi Raja if you are a diehard Lawrence fan!