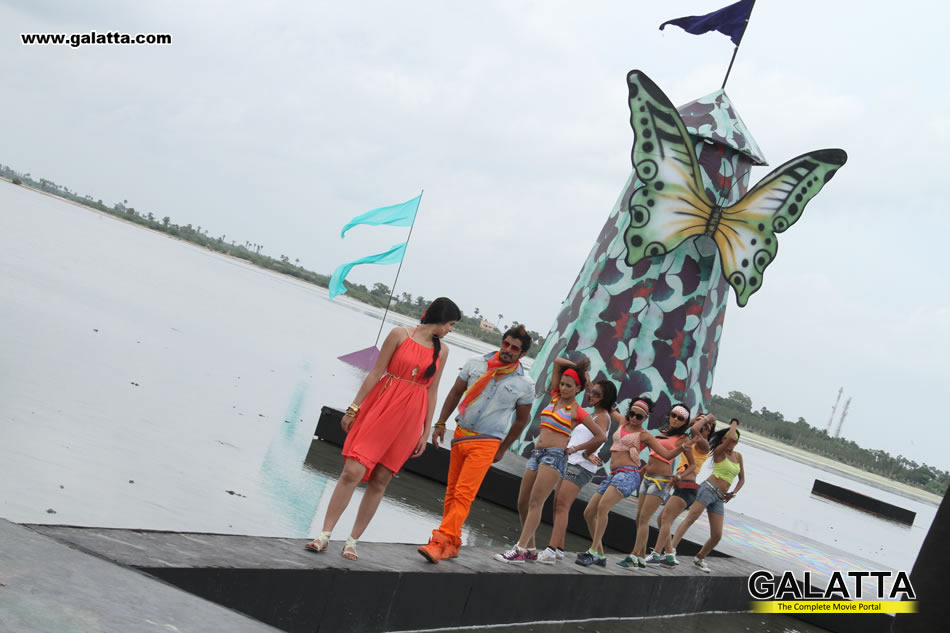 Rajapattai Movie review
First looks, posters, teasers and songs of Vikram's Rajapattai revealed that the film will be a complete mass entertainer on the lines of Sami or Arul. In this film, Vikram has appeared in more than 10 get-up for a particular song sequence and that has already become the latest talk of the town. And above all just take a look at the technical team; Suseendran (director), Yuvanshankar Raja (music), Madhie (cinematographer) and Rajeevan (art director). These are some of the top talents in Kollywood and obviously the expectations for the film is also sky high. So here we bring you the plot of the film...
THE PLOT
Anal Murugan (Vikram), a gym instructor and dupe artist, wants to make it big in cinema. He has only one ambition in life, to become a great villain in Tamil films. Apart from that Murugan is also a good human being; he cares for others and he is always there to help the needy. He fights, yells, saves people from the hands of rowdies, mouths punch dialogues and of course bashes the goons! At one such instance he saves an old man Dakshinamurthy (K Viswanath) from the hands of the villains. And then comes a flashback! Dakshinamurthy, a rich business man, has everything in life expect a good son. After the death of his wife, he runs an orphanage (which is located in 25 acres of land). But now his son wants to sell this land for his political gain and when Dakshinamurthy refused to sign the document, his son had send his henchmen to finish the task.
Murugan decides to take Dakshinamurthy with him to his mansion! But can he really save the old man from his son and his henchman's? Watch out for Rajapattai.
PERFORMANCE AND TECHNIQUES
Vikram is always know for his intense acting skills and perfection. After the heart wrenching Deiva Thiirumagal, we really expect something different from the actor every time. Rajapattai is neither a complete commercial entertainer like Sami or Arul nor an intense drama like Deiva Thiirumagal or Pithamagan. In Fact the film has it's own ups and downs. Vikram as usual has given his best but somewhere we feel that the actor has not being used well by the director. Deeksha Seth, who appears as Vikram's love interest, comes only in few scenes and there is no scope for any performance.
The major highlight of the film is veteran filmmaker K. Viswanath's witty comedy. He excels in it and it is really interesting to see him in such roles. Suseendran's direction is a big let down, the plot, characterization and screenplay are half baked. The main plot of the film (land grabbing track) only post the intermission which gives us a feeling that there are too many unwanted scenes in the film. Most of the film's characters belongs to the 80's and Vikram's costumes are another major disaster. It also looks like music director Yuvanshankar Raja is still soaking in the success of Mankatha as some of the tunes in Rajapattai reminds us of Yuvan's recent hits. Kasi Viswanathan's editing could have been better while cinematographer Madhie's camera works fits the bill perfectly.