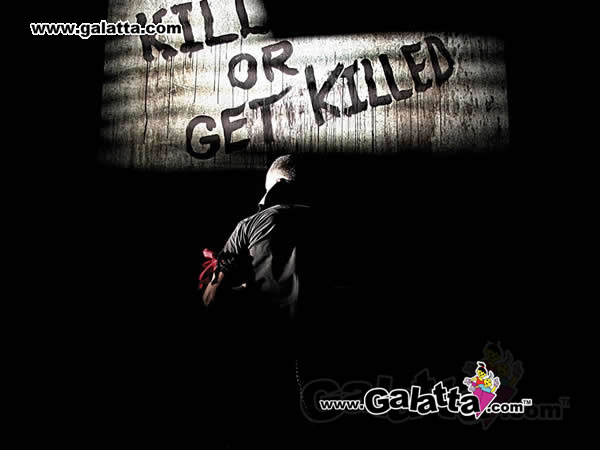 Porkkalam Movie review
There are times when striking visuals distract the focus on the story in a movie. Bandi Sarojkumar's Porkkalam is one such. The movie has been stylishly shot with convincing performances from the cast.
Who's In It?
Porkkalam has Kishore, Sampath, Sathyan, Lal, Biju Menon, Atheeswar and Smitha in the cast. Tinu Anand is one of the villains. The movie is directed by Bandi Sarojkumar, who has also written the story, screenplay and dialogues. Bhaskar Rao produces the movie for his banner Bharani Minerals.
What's It About?
Porkkalam takes its inspiration from the Ramayana with the characterization to an extent. Karnan (Kishore) is a blind man who lives with his servant Sathya (Sathyan). He becomes the enemy of Aslam Bhai (Lal) when he sends Aslam's brother Khader (Ghajini Rajesh) to jail for some crimes. Aslam swears that he would take his revenge on Karnan.
Sneha (Smitha) who runs from the clutches of Dhronam Raju (Sampath) meets Karnan. She explains that Raju and his godfather Bhismaki (Tinu Anand) have been forcing her into a marriage which she refused. Pasupathy (Ponvannan), a long time foe of Raju, supported her and tried to rescue her. But Raju's men killed his brother and she had no choice except to run away.
Sneha comes to the city hoping to lead a better life. Karnan asks her to stay with him in his home and they eventually fall in love with each other. But things go haywire when Raju's men find Sneha and kidnap her. Karnan decides to fight the baddies and marry Sneha. The rest of the movie is about who wins the battlefield (Porkkalam).
The Performances
Porkkalam has an apt cast. Kishore as the blind man is the surprise package of Porkkalam. While we are used to see him play character and villain roles in his earlier projects, as Karnan he delivers the goods as the protagonist. He has done justice to his role and emotes well. He is great in the fight sequences which at times defy gravity and logic. Smitha is promising, though her role is short. Sampath, as usual, proves that he is at ease as the antagonist. But sometimes he is reduced to just screaming at his men and Kishore. Tinu Anand returns to Tamil cinema after quite some time. He is good. Ponvannan and Rajesh deliver what is required. Biju Menon is impressive as the corrupt police officer who has his own ethics and way of doing things. Atheeswar and Ghajini Rajesh are ok.
For Techie Lovers
Porkkalam, as mentioned earlier, is technically savvy. Be it with the visuals or the fight sequences, the movie is a commendable effort. The movie doesn't carry a complex story, which is one of the positive factors, since the team entertains us with excellent visuals. Cinematography excels. Editing is crisp. Super Subburayan deserves special applause for the stunt choreography. Since dialogues are less, Porkkalam is immensely supported by the music and re-recording by Rohit Kulkarni. Overall, Porkkalam is above average in the technical department.
Final Verdict
Bandi Sarojkumar with Porkkalam as his directorial debut is promising and is sure to reach great heights in Tamil cinema. Porkkalam is about filmmaking and makes us believe how the visuals can move a screenplay at the same time be entertaining.
Cheers! Check it out for the effort and stylish visuals!
Review by Shailesh
Please note: Every review on Galatta.com is written by the person who has watched the movie. Therefore, while conscious effort is made to give a fair, unbiased and ethical opinion, every review will have a personal element and opinion to it. Ultimately, every movie experience is a personal one and readers should watch each movie on their own terms.