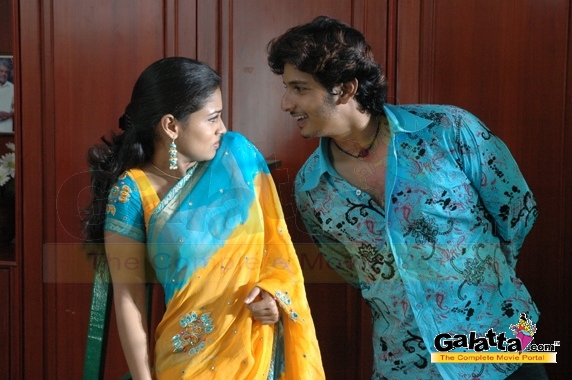 Pori Movie review
The Story:
Hari (Jeevaa) is a young, upright man who, along with his friends, wants to stand on his own 2 feet and make a living.
He and his buddies (Karunas and others) all run individual shops, little stalls where they sell everything from books (Hari) to lock repair services to parrot-astrology. Their little shops are on Government land, so they pay their rents to the authorities as regularly as they can.
Despite this, they are forever harrassed and Hari longs to be out of all this trouble.
Hari's father (Nagesh) is a straight-laced retired schoolteacher and given their humble finances, he has always been careful spending his money. There have even been times Hari has been distressed, wishing his father had done or would do more for him...
And he finally does - Hari's father feels bad for Hari and all the daily hassles he has to face with his little rented shop and decides to spend all his retirement funds in getting Hari a place of his own. He even jokes to him: Hari, you can run your little shop downstairs, stay upstairs and once in a while, even I may come around to buy some books from you!
Touched, Hari is happy that there finally seems to be a light in his life.
With great enthusiasm, Hari does up his shop with pleasant woodwork and nice glass interiors, as a proud owner would... but like a black cloud, he is again plagued by worries - a group of people come to his shop and tell him that his father had been cheated by persons claiming that they own the property when the property actually belongs to these guys Which means that all of Hari and his father's hard work and hard-earned money is going to naught!
Hari decides he won't take this lying down and fight back. They try to find out how they can legally fight their case and win Hari's place back. During this investigation, they find that Namasivayam (Sampath) is the man behind all Hari's troubles.
Namasivayam and his group pf cronies have made it a business to cheat unsuspecting people of their property and money. They buy, sell and lease land and property that is not even theirs, with false papers and promises and as a result of this, many have lost their lives' earnings or inheritances, with no way of fighting back.
Hari goes loggerheads with Namasivayam and fights his battles both on the legal front, with cases filed in the courts, as well with his will and his fists...
The Romance:
Hari meets Uma (Pooja) quite by accident. Uma runs into his shop one day and begs to be hidden from some men chasing her. Hari does so, but to his surprise, as soon as the men wander away, Uma just gets up and leaves without a single word of thanks! Hari calls after her, but she snubs him with a witty remark and a twinkle in her eye.
Some time later, this happens again, but Hari decides to teach Uma a lesson and shows the men where she is hiding. They grab her and take her away and quite comically, Hari goes with them... only to find out that one of the guys in the group is begging Uma to marry him because he thought she loved him! Hari decides to end this silly drama and gets her out of their clutches.
A series of comedy scenes filled with tongue-in-cheek humour and banter shows love developing between Hari and Uma and finally, they decide to be together for the rest of their lives...
The End:
Hari's personal life does not interfere with his decision to teach Namasivayam a lesson. With an inspiring combination of working within the law and using his fists to get justice, it is interesting to see how the story unfolds and whether Hari will win or lose to the quagmire of legalese and goonda power.
Pori is very different for Jeevaa, from his earlier E. He has played the role of a good and honest young man, whereas in E, he played shades of grey.
With every fi