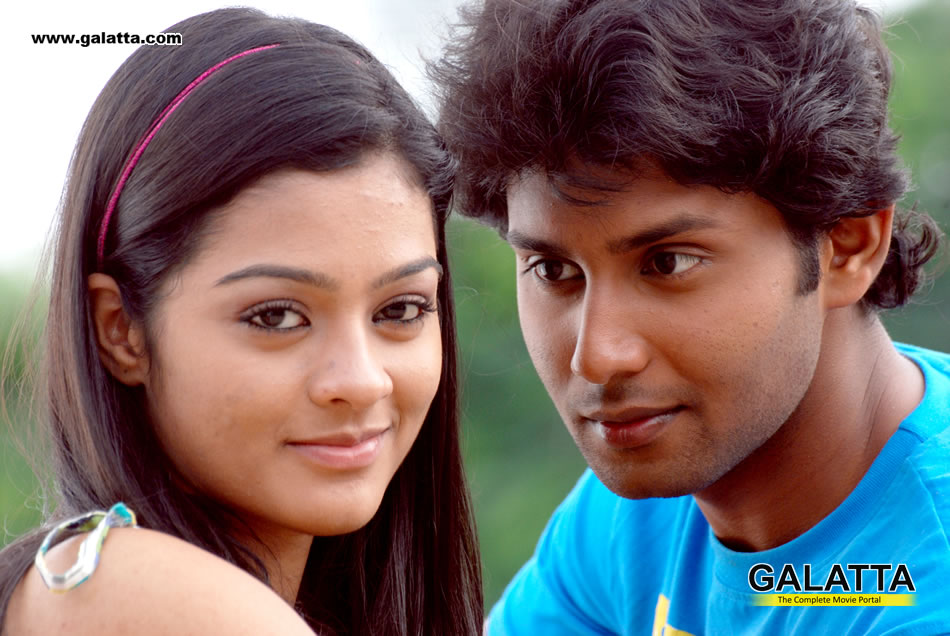 Ponmaalai Pozhudhu Movie review
Aadhav Kannadasan, grandson of the legendary poet Kannadasan is making his Kollywood debut with this movie Ponmaalai Pozhudhu, also starring Gayathri of Naduvula Konjam Pakkatha Kaanom fame.
Arjun (Aadhav Kannadasan) and Divya (Gayathri) are 12th standard students who enjoy life to the fullest with the likes of weekend parties, with their group of friends. Arjun's father played by Kishore and his mother by Anupama. Kishore is a hard working middle class Railway employee who tries to provide all the comforts of life to his son, as he himself had a very abusive father who never understood him. Divya's father played by Aruldas is a very strict person who suspects anything and everything, and is only after money. Divya and Arjun are just friends, but Divya's father mistakes them to be in love and humiliates Arjun in front of his whole class. Arjun's father shifts his school after this incident, but it only makes the feelings that Arjun and Divya have for each other stronger. Arjun and Divya fall in love and decide that they can't live without each other. Divya's father comes to know of this through her brother (Dilli Prasath), and reacts as adversely as he usually does. Arjun literally starts going insane after Divya gets grounded and is kept away from going to school or meeting anybody. Will the lovers get together? Is it event right that students of 12th standard know how to differentiate between what is right and wrong for them? How good a father and how different from his own father will Kishore turn out to be? Watch Ponmaalai Pozhudhu to find the answers to all these questions...
Aadhav Kannadasan has chosen a good movie to make his debut. Gayathri who impressed one and all with her performance in Naduvula Konjam Pakkatha Kaanom, has surely taken her performance in this movie, one step further, and is one of the major plus points to the movie. Kishore's stellar performance as a person who wants to be a good dad and somebody who doesn't want to impose himself on his son, but let him learn what is good for him by experience. Anupama is her usual self, and breezes through her role effortlessly. Director AC Durai has taken one of the most pressing issues of society and presented it in a simple and neat way. Sathya's music is pleasant and in tune with the feel of the movie, but the song placements could have been better managed. Overall, all the actors have done a good job.
A simple tale classily told and a movie that has something for everybody in the family.