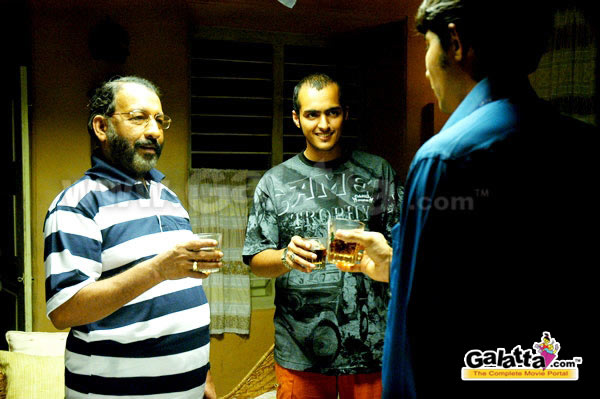 Poi Solla Porom Movie review
While the whole film industry is progressing at a feverish pace, shuffling through romantic stories and mystery plots, Poi Solla Porom comes as a soothing whiff of fresh air. Through its realistic and situational comedy, the film makes a lasting impression and generates an feel-good mood on the audiences' psyche. Inpsired by the 2006 Hindi film Khosla ka Ghosla, some changes have been made from the original to suit local tastes and sentiments.
Sathyanathan (Nedumudi Venu) is a contented man. His family, comprising his sons Uppilinathan (Karthik), Viswanathan (Om) and wife Saradha (Lakshmi), is the rarest of rarities. All of them live together in harmony under one roof. Sathyanathan's personal fulfilment is of course the chief source of his pride and contentment. With his kith and kin close to him and enough money to see him through the rest of his life, everything is good, so good for him. Sathyanathan seems to be the master of his own destiny, or so he thinks, except that he has a desire to be fulfilled.
Though well-settled, Sathyanathan's only wish is to have a house of his own. With a firm view to get it done, smart Sathyanathan has also saved some money from his earnings and has purchased a plot of land for future construction.
Baby (Nasser) represents business cunning in its purest form. A realtor, Baby has ruthlessly cheated and doomed many families and individuals without any regard for ethics or their emotions. His movements and approach are so mean that he is loathed even by the experienced people with scruples involved in the realty business. He is known as a brutal businessman with a boundless ambition, whose only aims are bottom-line profit and increased influence for himself. Most of his buildings are built on many innocent people's tears, losses and ruins.
Eventually, Baby comes to know about Sathyanathan's property. Since the time he gathered this information, Baby's singular ambition is to grab it from the simpleton. Soon Sathyanathan falls for Baby's sugar-coated talks and before poor Sathyanathan realizes, it Baby transfers the title and ownership. When the family looks back at everything and realizes Baby's ruthless move, it is too late. The whole family is struck with the tragedy, the loss of their only immovable property. At that crucial juncture, Sathyanathan's sons come forward to solve the problem. Knowing that only trickery is the right tool to win over Baby, they hatch a plan.
As per the plan, they choose an abandoned piece of property in an attractive locality and publish the details in the local paper calling parties interested to bid for the same. Greedy Baby, who happens to view the ad, gets in touch with the owner. Going by their advice, Uppili's friend's father poses as the rich man whio owns the land and make Baby agree for the deal. What happens next? Does Baby fall for Uppili and Viswa's plans? Is the sale facilitated and do they get their money back? Does the tentative ownership get revealed? How do the Nathans manage to hide the details regarding the true ownership of the abandoned property? Does their precarious position get exposed? Do they teach a lesson to the wily ruthless unscrupulous realtor? Watch the laugh riot Poi Solla Porom to know!
Nasser, as the crafty realtor who gets cheated by rank amateurs thanks to his greed, is the top highlight of Poi Solla Porom. His character is etched well in his dialogue deliveries, body language and attitude. With all that delivered in the right degree, the influence he makes on the audiences is profound. Nedumudi Venu's mature acting adds to the drama. Karthik and Om's performances too are up to the mark. In fact, the artists' combined effort in delivering the dialogues, their sense of timing and the understanding that is established among all of them is the reason for the success of its theme and treatment.