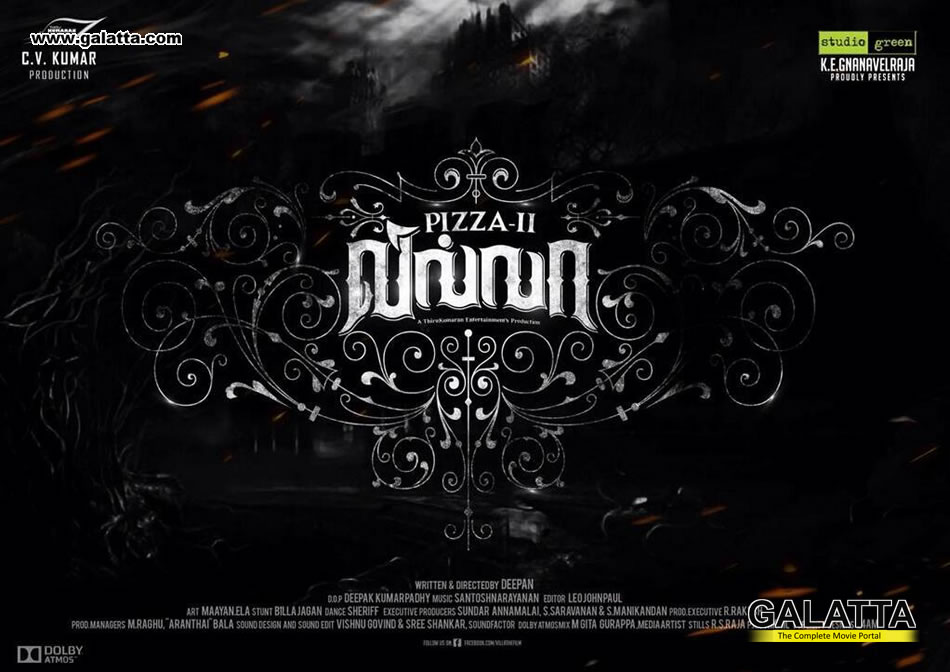 About

Pizza 2 - The Villa
A writer moves into a mansion and things begin to go bump in the night.
Pizza 2 - The Villa Movie review
Pizza set off the beginning of a unique franchise of movies in Kollywood. Ashok Selvan, who made a successful debut in Soodhu Kavvum turns hero with Pizza II: The Villa!
Pizza II: Villa opens to a grim mood and a funeral. The music and the ambience get you ready for a burial at a cemetery! Jobin (Ashok Selvan), after his father's death is left with nothing but debts and a lot of pain... His girlfriend Arthi (Sanchitha) is his only source of support! When Jobin thinks he has nothing in his life, he is bequeathed with a Villa in Pondicherry. Being a writer, he travels down to the place, and makes the place fit for living (or so he thinks)! Can anybody live in the Villa? Jobin sets in motion a couple of things that just spiral out of his or anybody's control. When will it stop? Or will it? What is it that is not letting people stay at the villa? What do the mysterious paintings in the villa mean? What does a French Psych(o)ic have to do with any of this? Is the Villa safe for inhabitation at all? Head to a theatre near you to get the answers for all these questions!
Director Deepan carries forward the tradition of the successful Pizza and coming from the house of CV Kumar, this is a unique project indeed! The wonderful BG score by Santhosh Narayanan is just stupendous setting the tempo for each scene! After setting up the story in the first half, the second half races along! The climax and pre climax sequences rock the viewers! The way the cinematographer has rolled and shifted the sequences are indeed wonderful! Ashok Selvan continues to impress us with his flawless performances and Sanchitha is more than just eye candy in the movie! Nassar, though appearing in just a few sequences, makes an impact! SJ Surya's little cameo is quite surprising and sets the tone for people to think of Pizza III.
This Studio Green and Thirukumaran Entertainments production and ABI TCS Media release is sure to keep you on the edge of your seats from beginning to end!