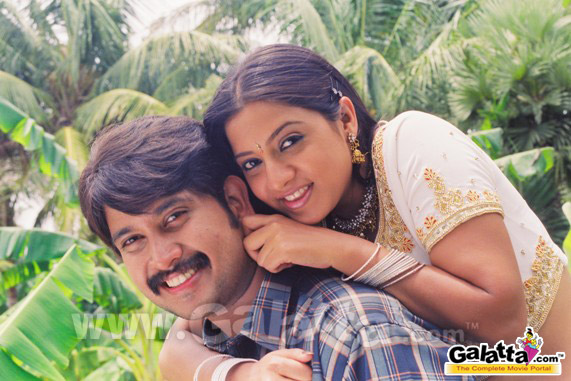 Piragu Movie review
Another story of a virtuous young man, enmeshed in the trap of black crafty villains, who summons all his strength and prowess to beat the bad guys and comes out unscathed in the end.
Sathya [Hamsavardhan] hails from a small village, Natham. He writes and directs a number of dramas in his village, and obviously harbours the dream to become a great film director. Eventually, he musters courage, takes a risk and leaves behind all he knows, to tread on new grounds. He leaves Natham for Chennai in the hope of getting his big break in movies.
As Sathya wanders through the taunting and merciless streets of Chennai, hoping someone would give him a chance, he gets acquainted with Priya [Sunitha Verma]. She takes pity on the homeless Sathya and does everything within her power to help him.
Sathya's life takes a twist one day, when, being a courteous and upright man, he saves a young boy [Karate Raja] from the hands of some vicious thugs. It turns out that the young boy is the younger brother of Annachi [Kadhal Thandapani], a notorious don. In appreciation of Sathya's help, Annachi invites him to join his group of goons. However, Sathya spurns Annachi's offer, thereby earning his wrath. And Annachi is not the only one scorned by Sathya...
The thugs Sathya beat up while saving Annachi's brother are a part of another gangster group, headed by a rather ruthless lady, Annapoorni [Amy]. She is all out to eliminate him for having wounded her goondas and rescuing Annachi's kin.
With two villains on his tail, Sathya has hardly any time to return to his search for a chance to direct. The rest of the movie has him fighting the baddies. How does he put an end to his strife? That is the rest of the plot, leading to the climax.
Hamsavardhan, son of yesteryear actor Ravichandran, whose career graph had taken a dip, has given his best performance till date in Piragu. In Piragu, one can see that his acting skills have matured and improved. He also manages the stunt sequences particularly well. Action Prakash has tried to be very innovative with the stunts while also trying to keep them realistic.
The comedy track with Vadivelu is indeed the highlight of the movie. He plays the character of a crematorium attendant and has managed to trigger our funny bones with his wisecracks, even in such a sombre background.
Srikanth Deva's music barely touches the 'Good' rank. The song 'Padhinaru Peru', penned by Anadhai Bala is the only tune that makes a positive imprint on the mind.
En Jeeva started the story on a new plane, but eventually settled for the well-trodden path. He could have injected a little more innovation in the plot to make the movie different from the run-of-the-mill Hero-Dada stories. Kasiviswa's camerawork is quite commendable and Manivanan has tried to boost the pace of the screenplay through his editing.
Piragu could have been different, but has finally come out like any other action movie.