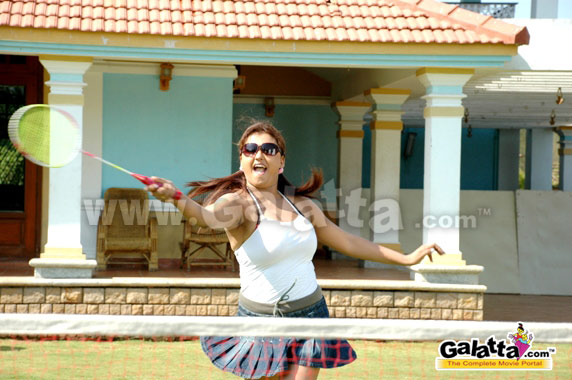 Patthu Patthu Movie review
Patthu Patthu is a murder mystery. The film's name signifies the time (10.10 p.m.) at which a murder takes place.
Film director Subbu (Thalaivasal Vijay) is very short-tempered by nature. His hysteric bouts of anger have affected many people, ranging from his crew members to innocent passers-by. One day, Subbu is found murdered. Some psychopath has bundled Subbu in a suitcase and left it in lawyer Valli's front yard.
Coincidentally, just a day before the murder, Subbu encountered an embarrassing situation at home. He found his wife (Sona) in a delicate situation, begging and appeasing a youngish fellow half her age. Knowing about her oversexed nature and her constant exploration for sexual pleasures, Subbu had become disturbed. Though the wife knew her husband had had a clear view of the unpleasant scene, she avoided all arguments on the subject with Subbu. But having been caught red-handed, the wily wife decided to eliminate him and his interference. With all the contained anger and disappointment, Subbu stepped out of the house and got engaged in a clash with a local thug. Subsequently, Subbu is found murdered by an unknown killer.
Moreover, a petty thief engaged in a break-in also happened to be present in the crime scene. A number of chance happenings and Subbu's infamous temperament confuse and mislead the investigation. Consequently, the list of suspects for the murder is long and the string of events preceding the treacherous event kindles a lot of doubts. Bose Venkat, the Chief Investigation Officer arrives to solve the murder and conducts a detailed investigation. Starting from Subbu's wife, the gangster and the thief, he interrogates everyone. Who is the killer? Is it someone belonging to Subbu's family or friends? How do the police track the killer? What is the reason for the murder? Is the killer in a position to narrate his scheme and execution? Patthu Patthu's climax holds a big surprise for curious audiences.
Patthu Patthu's screen time runs for a crisp two hours and has a limited cast. Though the storyline is interesting, instead of utilizing its strength, director Sathyam has totally banked on heroine Sona's glamour. Unfortunately, the overdose fails to strike a chord with the audience. However, Thalaivasal Vijay and Bose Venkat's performances do not disappoint and form the chief highlight of Patthu Patthu.