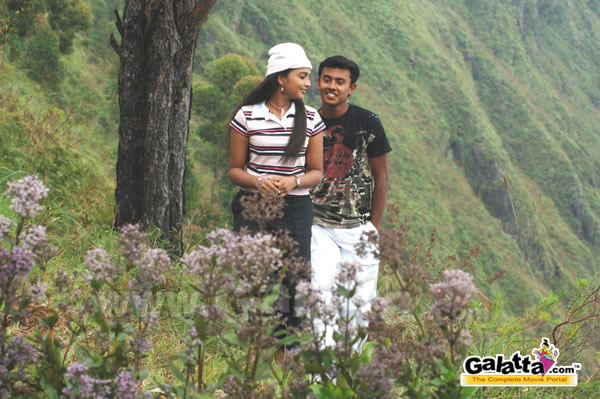 About

Pattalam
The film is about two groups of four adolescents in Holy Bells School, who are pitted against each other. Their encounters make up the first part.
Pattalam Movie review
First Word:
From the days of Azhaigal Oievathillai, Panneer Pushpangal, Thulluvatho Ilamai and Shankar's Boys, there have been only a couple of movies that turned out to be successful with stories revolving around themes such as school day memories and adolescent love. Thirrupathy Brothers, the production house which earlier gave us a hit with Ezhil's Deepavali starring Jeyam Ravi and Bhavana, now brings you another youthful movie, Pattalam (The Gang).
Who's in it?
Rohan Krishna, who directed the super hit TV serial 'Kana Kaanum Kalangal' is the debut director of Pattalam. His wife, Sheeba Rohan, has written the story. Nadiya, after sharing the screen with Sundar C. and Ragini in Sandai, plays the role of a school correspondent and psychiatrist. Pattalam has a lot of new faces in the cast including Irfan, Arun, Guru and Kripa.
Jassie Gift returns to Tamil after his record breaking music in 4 Students. The lyrics are by Na. Muthukumar, Yuga Bharathi and PRO-turned-lyricist Nellai Bharathy. After Lingusamy's Run, Mona Pazhanichamy has penned the dialogues.
What's it About?
Pattalam, as the title suggests, is about a gang of friends from a higher secondary school - Holy Bell School. The movie takes us to their school days, reminiscing the memorable moments of their quarrels, fights, accomplishments, mischief, love affairs, misunderstandings, inter-school competitions and the tragedy that overtook one of their friends. As the story reveals itself, we get an insight into each member's personal lifend how friendship brings them all together.
Nadiya (Daisy) is the correspondent of the school in which the mischievous eight are students in Class XII. They are split into two teams, rivaling each other in all school activities. Then comes Sophie (Kripa) seeking Daisy's support to continue her studies. Sophie stays in a home run by Daisy for the mentally-challenged. She meets Sakkarai (Arun) and sympathizes with him when he his mother dies. She also gets to meet the gang and becomes friendly with everyone. Karthi (Irfan), her classmate from Sakkarai's rival gang, also gets to stay in the same home. Karthi and Sophie become friends but Sakkarai stipulates that Sophie and he would part ways if she continues to talk to Karthi. Jealousy develops and a misunderstanding leads Sakkarai and Sophie separating. Sakkarai convinces himself that Karthi was the cause for the separation and seeking revenge, decides to murder Karthi. The rest of the story is about what happens next to Sakkarai, Karthi and Sophie. Parallel to this triangular love story, the narration of Daisy's belief, and the trust she has on her students to make them become more ambitious and disciplined, is inter-woven.
Performances
For a movie with a bunch of new cast members, Pattalam is convincing with performances that entertain the movie's target audience, namely school and college students. Nadiya, as the correspondent who is so kind even to the mischievous lot, will be loved by family audiences. Bala Krishnan, the production controller of Pattalam, plays the role of a strict teacher who wants the students to focus only on studies and be disciplined. Though his role is limited to just a few scenes, he makes an impression. All the boys, including those with character names such as Sakkarai, Nattu and Jillakki, have done justice to their debutant roles. Kripa playing the love interest of Sakkarai is already touted to be the next 4 Students Gopika even though her acting is amateur in a couple of scenes. Guru, son of veteran comedian Paandu, does what is expected of his character to a good extent and plays the funny guy of the gang.
For Techie lovers
Music plays a vital role in Pattalam. Jassie Gift delivers a few hit songs with 'Iskabarara' standing tall. The cinematography and art direction are worthy of praise. Dance sequences and the background score are average. Rohan Krishna, assistant to directors Priyadarshan and Santhosh Sivan, has given a light-hearted comedy targeting school and college students. A few scenes could have been shot with more finesse, such as the ones that introduce the gang. The movie might also suit Malayalam audiences and a remake can be expected shortly.
Final Verdict
Pattalam is for the adolescents whose expectations from a movie are just entertainment, nothing else. The movie might not satisfy mature audiences and those who expect substance from a script. The director and the producer deserve special applause for having given a movie without any double entendres, violence or sleazy glamour targeting the youth. Pattalam is a clean winner when it comes to the students.
Plus! : The Pattalam Gang and Jassie Gift's Music
Ahem! : Wafer-thin story
Review by: Shailesh