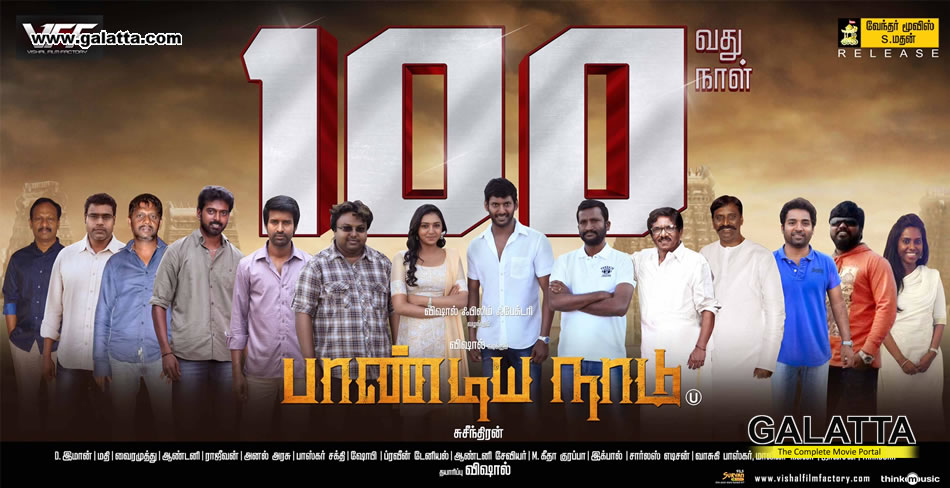 About

Pandiya Naadu
A man is on an attempt to avenge a mafia gang for his brother's death.
Pandiya Naadu Movie review
Following the success his last movie, Suseenthiran's latest directorial Pandiya Naadu, Vishal's maiden production venture has hit screens!
The movie uniquely opens to a death scene. All the bad guys of the volatile town are at loggerheads with each other. To gain a hold over the town, the illegal quarry owner Simmakkkal Ravi begins taking out all the other gang leaders. Sivakumar (Vishal) is a very simple guy who totally shuns violence and leads a very simple life. He falls in love with a teacher Malar (Lakshmi Menon). Sethu (Vikranth) and Soori are Siva's friends. Due to a twist of fate, Siva's life and Simmakkal Ravi's life collide. What follows is the rest of the movie. Head over to watch Pandiya Naadu at the theatres!
Director Suseenthiran has taken a simple tale of revenge and weaves a solid story of transformation around it. A simple man turning into a revenge seeking, justice delivering rage is believably done. Vishal has quite a large canvas to showcase his talent and he does not fail. This is a wonderful comeback for Vikranth. Soori provides the much needed comic relief in a tense movie. Lakshmi Menon lives up to her branding of an able performer. Bharathiraja as Vishal's father, delivers an impressive performance, for his character plays an important role in the movie. The movie sort of shows a bits and pieces random first hald, but the second half pieces together everything and sets a solid platform. Imman's music is pleasing and Mathi's cinematography is perfect. The climax sequence has been perfectly choreographed and makes for some thrilling viewing!
A normal story but with twists and turns and the Suseenthiran treatment with some superb performances, make Pandiya Naadu a must watch movie!