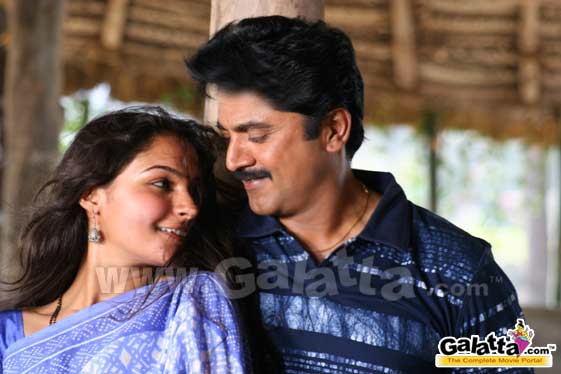 Pachaikili Muthucharam Movie review
Venkatesh (Sarath Kumar), looking frazzled, steps out of his car on Golconda Road in Hyderabad and looks around, searching.
He hears his son Nanda's voice, as the little boy yells, "Appa" and comes running towards him. Relieved, Venkatesh folds him in a tight hug and then pulls out Nanda's insulin injections to give him a dose – it's been 2 days since his last shot. And then... he sees something or someone in the distance and his expression changes... Let's go, Nanda, he says in a determined voice... let's go get your mother...
This is from the present day and as Venkatesh walks toward the unseen force that steeled his voice, we are taken into his past...
Venkatesh works for Alpha Pharmaceuticals as a sales rep. and a very successful one at that. Not in terms of dynamism or ambition but because he is a totally contented and happy man. His dynamism only shows in his superb sales figures, something he achieves with perseverance more than slick sales talk. His life is a few very productive hours at the office – where everyone likes him for his calm and steady personality – and his time spent with his family of a beautiful wife and a young son. As he tells his friends, he has no more to wish or aim for – he has a steady job, a good home, a lovely and sensible wife Kalyani (Andrea) who is not at all demanding, an adorable son and enough of his hard– earned money saved for their future.
Then, Fate shows her trickster's mind in their lives. One day, while Venkatesh is away at work, Nanda walks into the kitchen at home and faints. Panicking, Kalyani rushes him to the hospital and they run some tests on the little boy. When Venkatesh returns and they consult with the doctor, they are shocked to hear that Nanda has juvenile diabetes and needs daily insulin shots to keep him going. Even the doctor's repeated assurance that this is not a disease and just a condition – Nanda is otherwise a normal and healthy boy – does not console them.
Life for them completely changes after this. Venkatesh and Kalyani go through the heart–breaking task of giving the little boy insulin injections thrice a day, Nanda's protests and pain, Kalyani's disbelief that this is happening to them...
Venkatesh tries his best to be strong and calm for his family and live life as before but Kalyani's mental strength deteriorates. She withdraws into herself. She tells Venkatesh that after this, they should not have any more children and everything that they have – love, time, money – should only be for Nanda. Emotionally and physically, she draws away from Venkatesh, leaving him with no shoulder to lean on.
Venkatesh goes about his work as a matter of routine. He works longer hours, not wanting to walk into a lifeless home, unlike when he used to walk into a home with hugs and laughter. And one day, on his usual train journey to his office, in front of him, boards a lovely lady (Jyotika). Another passenger, but one he has never seen before (having spent so many years boarding the same trains at the same times, one tends to notice new faces). Some strange curiosity makes him stare at her, but he doesn't want to offend her. Gradually, she too understands that he is not trying to harass her and talks to him. An awkward meeting, but not unpleasant.
And so, they somehow end up meeting the next day too, and the day after... and days after that. Friendship blooms and over the many days they meet, they talk about their lives. Her name is Geetha and she works because she cannot stand to be in the same house for many hours as her suspicious and abusive husband. She has a daughter, who is the only light in her life. He too tells her about his life and is subconsciously relieved that he has someone to unburden his worries to, now that his wife too has withdrawn from him.
Soon, coincidence turns to expectation and they start to look out for each other at train stations mat