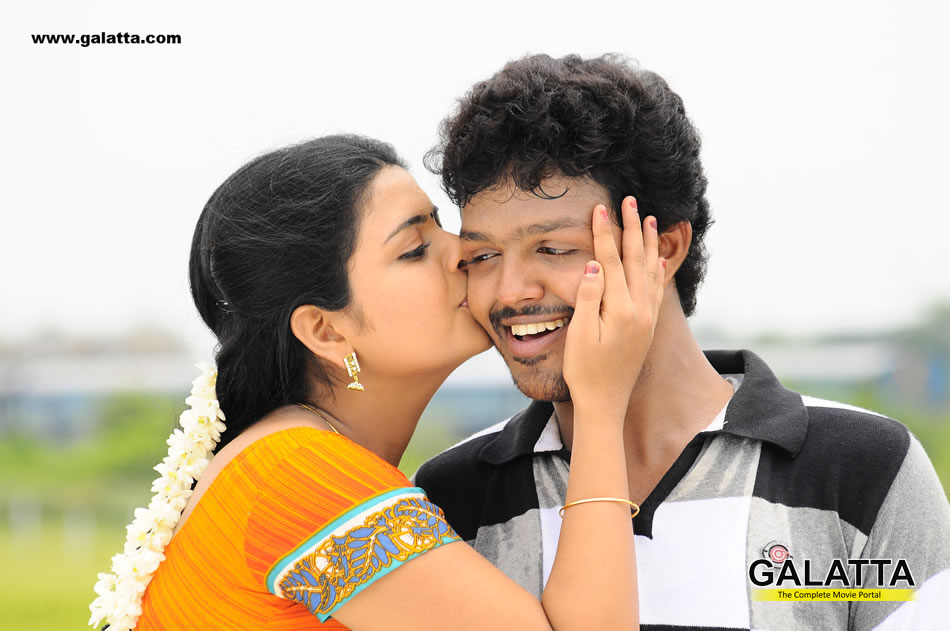 Oruvar Meethu Iruvar Saainthu Movie review
Sneak-Peak: Two childhood friends decide to get married to a same person. Reason? They doesn't want to be seperated in life. And it looks like this is how the director has justified the title of the film. But to know more about the plot read on...

Director Balasekaran, who has earlier given several hit films like Love Today, Arya and Kadhal Sugamaanadu, is back in Kollywood after a long gap with Oruvar Meethu Iruvar Saainthu. The film once again bring back the Raattinam duo, Lagubaran and Swathi, on screen. Also in the starcast are Saanyathara, Bhagyaraj and Visu. Siva (of Love Today fame) is the music composer. The Plot: The film opens in Palani! Ganesh (Lagubaran) is on a hideout from his family and friends in Palani. There he meets Bhagyaraj and narrates his story... Well, his story goes like this... happy-go-lucky Ganesh's life takes a toll when he meets TV anchor Savitha (Swathi) and its love at first sight for him. After much hype and hoola, Ganesh manages to impress Savitha and they decide to get married at the earliest. But here comes the twist, Savitha putforths one condition, that he should marry her best friend as well. Heart-broken Ganesh leaves the city and goes to Hyderabad to live with his sister. There he meets Kavitha (Sanyathara) and over the time, they develop a soft corner towards each other. Both the family intervenes and decides to get them married. On the day of marriage Savitha appears at the venue with police. There is another interesting twist awaiting the audience at this point, which we don't want to reveal. So why is Ganesh on a hide out in Palani? Who is Savitha and Kavitha? Will Bhagyaraj, the master mind solve the problem for him? Watch out...

Lagubaran is an efficient actor and we have already seen him in the critically acclaimed Raattinam. The first half of the film is very clinched and the interval block comes with an interesting twist. The second half is more like a slapstick comedy. Swathi is the same Raattinam girl, while Sanyathara is the galmour quotient. Bhagyaraj has done his role well, Visu makes a special appearance which is interesting.