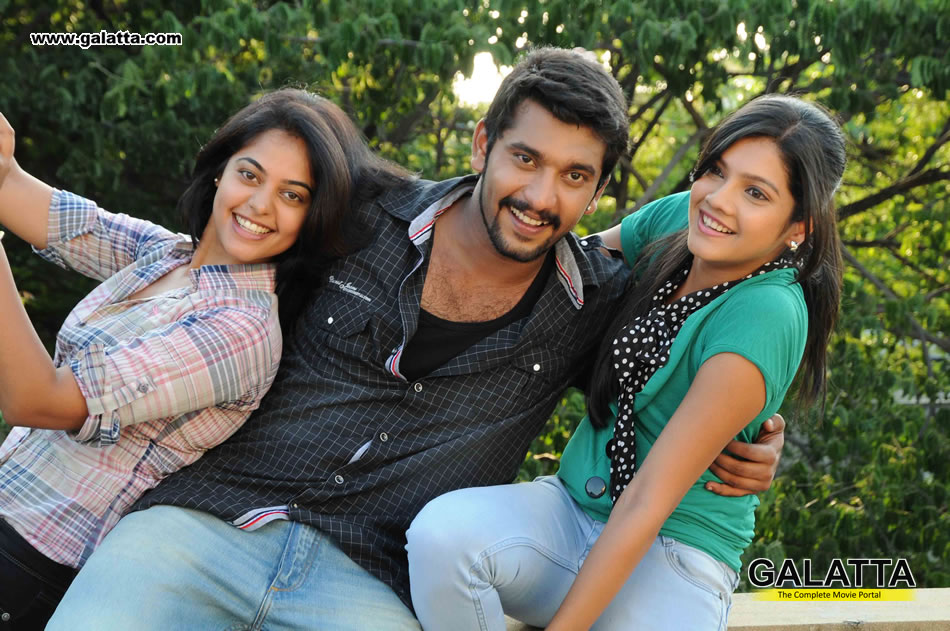 Oru Kanniyum Moonu Kalavanigalum Movie review
Directed by Chimbu Deven, famous for his quirky comedy capers, Oru Kanniyum Moonu Kalavanigalum is the tale of how a guy - Tamil (Arulnithi) with his friends (Bindu Madhavi and Bagavathi Perumal) try to get a girl - Isabella (Ashrita Shetty). This movie, produced by Mohana Movies and released by JSK Film Corporation, has music by Natarajan Sankaran, cinematography by SR Kathiir and editing by Sreekar Prasad.
The movie opens in heaven, to Lord Brahma meditating. Narathar comes to visit Brahma when he tells that the sage would have missed him had he come a minute later. Disputing this claim, an issue arises between Narathar and Brahma over the value of a minute. They take this issue to Lord Shiva for a solution. Wanting to prove the value of a minute and how it totally affects fate, Shiva shows how even a minute's difference makes a major change in the life of people. To demonstrate this, Shiva shows Brahma and Narathar, the events that take place in the life of Tamil (Arulnithi) and his friends Malar (Bindu Madhavi) and Ramanujam (Bhagavathi Perumal).
Tamil's lover Isabella (Ashrita Shetty) is about to be married off forcibly by her father (Ravi Raghavendra) to a relative. Tamil, Malar and Ramanujam are all troubled by heavy financial stress too. Tamil and his friends plan to kidnap Isabella from the church where she is getting married. They plan to get illegal guns, drive triples to the church in a bike, disguise themselves and take off with Isabella. However, along the way, they are faced with a lot of pressure as well as comic situations and everybody receives a major shock in the end. This is when Lord Shiva shows Narathar and Brahma, what all would change if everything started a minute late. Despite the whole plan being the same, the situations Tamil and his friends encounter totally change. What happens when everything is delayed by a minute? Similarly, what happens when everything is delayed by two minutes? Will Tamil unite with his lady love? Will all of Tamil and his friends problems be solved? To whom do the five lives that are lost belong? Watch Oru Kanniyum Moonu Kalavanigalum on the big screens to find out!
Director Chimbu Deven has shown that he is capable of dealing with fantasy stories with his ample doses of humour, through his earlier movies. Through this movie, he has shown that he can pull it off easily... The storyline is unique and the treatment in the screenplay is a delight. Though one keeps watching the same events happening over and over, the way they differ and the way the dialogues keep the viewers engrossed are well done. Arulnithi is a delight to watch. After playing a slew of rural roles, he pulls of this urban role with ease. His comic timing and dialogue delivery are excellent. Bindu Madhavi has also been seen mostly in small town girl roles and seeing her play a city girl, that too a tomboyish one is pleasing. She has done good work. Bhagavathi Perumal has continued the good work he did in Naduvula Konjam Pakkatha Kaanom. His voice modulation and expressions keep the viewers in splits. Though Ashrita Shetty does not have many scenes, she has performed well in the scenes she appears in. A host of character artistes, both veteran and newcomers have played their parts well. Aadukalam Naren, Jayaprakash, Mohan Raman, MS Baskar, Manohar, VS Raghavan, Jasper and many others make their presence felt. Natarajan Sankaran's BGM matches the tempo of the movie and the songs are good. The technical team have worked really well.
Oru Kanniyum Moonu Kalavigalum is a rib-tickler and a good comic relief for this scorching summer heat!