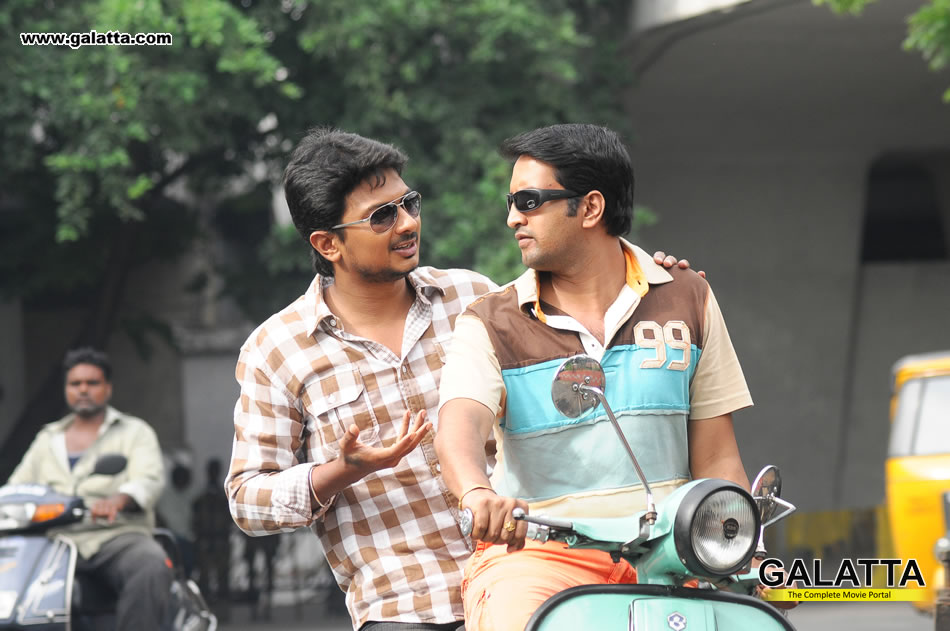 Oru Kal Oru Kannadi Movie review
He is just two films old (Siva Manasula Shakthi and Boss Engira Bhaskaran) but he has already created a special place for himself in Kollywood. Yes, we are talking about director Rajesh who has now emerged as one of the best entertainers in recent times. This time in Oru Kal Oru Kannadi, he has chosen Red Giants honcho Udhayanidhi Stalin as his lead hero. Bubbly beauty Hansika Motwani is the leading lady while like his earlier films Rajesh's lucky charm Santhanam plays an important role in this flick too. Harris Jayaraj's songs are already topping the charts. The movie, titled from the hit song from Siva Manasula Sakthi is a comedy entertainer in typical Rajesh style. Andrea Jeremiah, Arya and Sneha have made special appearance in this comedy entertainer. The film is produced by Udhayanidhi Stalin under his home banner. The star cast also includes Saranya Ponvannan, Azhagam Perumal, Sayaji Shinde and Uma Padmanabhan.

What is it about?

Set in the backdrop of Chennai, Oru Kal Oru Kannadi narrates the story of Saravanan (Udhayanidhi Stalin), a happy-go-lucky youth who works in a leading multiplex. For whatever he does in his life he will have the support of his childhood friend Partha aka Parthasarathy (Santhanam). At this point Saravanan meets Meera (Hansika Motwani), an aviation student, at a traffic signal and obviously its love at first sight for him. To his dismay he will soon find out that Meera is the daughter of city's Deputy Police Commissioner but that doesn't stop Saravanan from going behind Meera. Meanwhile Saravanan's mother (Saranya Ponvannan) is a graduation student, isn't that suprising? Well, the story goes like this Saravanan's father and mother are not on talking terms for the past 20 years. Apparently Saravanan's mother lied to his father that she is a graduate during their wedding and after knowing the truth the happiness in the family shattered.

Coming back to the story, can Saravanan convince Meera? Will Partha help Saravanan in his love? How will Meera's father react to this? What will happen to Saravanan's parents? To get answers to all these questions watch out for Oru Kal Oru Kannadi?

THE PERFOMANCE

The Santhanam factor: There is no one doubt that the film completely belongs to Santhanam! It's him all the way, right from the first frame to end credits! And he does it with ease, once again the combo of Santhanam and Rajesh rocks. In fact Santhanam is slow emerging as the best comedian in recent times. His comedy timings, perfect one-liners and dialogue delivery steals the show completely. Rolling on the floor and laughing - that is the best pharse to describe Santhanam's performance. Not to forget the actor's multicolored costumes!

Udhayanidhi Stalin's potrayal of Saravanan is neat and interesting; but he lacks the screen presence. Being a debut film, without any punches and heroic acts, Udhayanidhi has done a wonderful job. However he has to improve his body language and facial expressions (especially emotional skills). Pretty lass Hansika Motwani is cherubic and suave. She has in fact exhibited a dual avatar in this film; as a chirpy student and as a galmorous diva in the song sequence.

Saranya Ponvannan proves that she is one the best in K town today; a well deserved receiptent of the prestigious National Awards. Azhagam Perumal as Udhayanidhi's father is good, Sayaji Shinde as Hansika's father fits the perfectly and Uma Padmanabhan does her part well too. Another important role in the film is Arya, who interestingly appears only in one scene. There is no doubt he is the darling of masses. He sets the screens on fire with his white pattu vedi and sattai and we mean it literally. The actors appears as head of Rajinikanth's fans association and he plays a major role in uniting the couple. Sneha and Andreah has also done cameo appearance in the film.

THE TECHNIQUES

Director Rajesh has once again proved that he is best in the business. He has once used his old success formula (witty dialogues, an ordinary hero and his best friend) to make OKOK a fun-filled-joy-ride. Kudos to the Rajesh for writing a grippy entertainer with humourous dialogues. Harris Jayaraj's melodious scores is another added advantage of the film with the songs 'Akila Akila' and 'Venam Venam Machan' topping the charts. Balasubramanium's camera works and Jackie's art works are perfect. On the other side Udhayanidhi-Hansika romance doesn't seem to have much chemistry in it.

THE VERDICT

It's definitely a double OK for OKOK! Go for it and enjoy the long weekend!