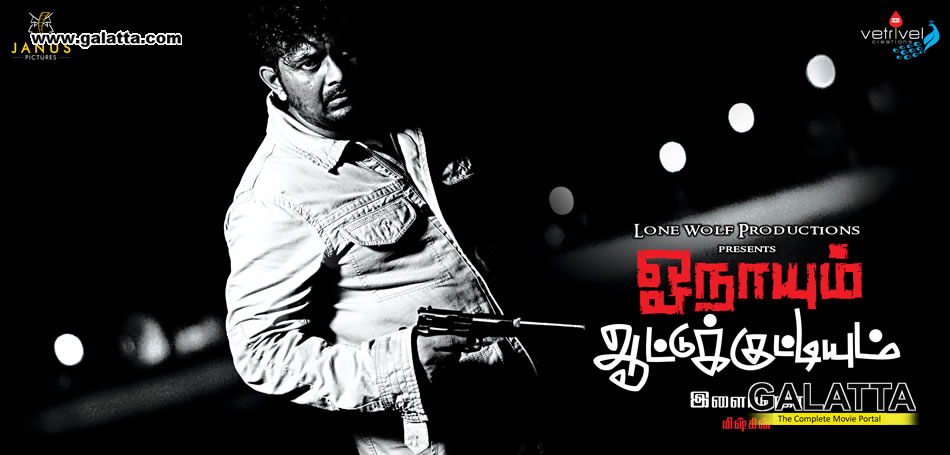 About

Onaayum Aatukuttiyum
Chandru (Sree), a medical student, saves a dying man by operating him, but soon, the police are knocking on his doors for helping Wolf (Mysskin), a paid killer. And, worse, they want him to kill Wolf.
Onaayum Aatukuttiyum Movie review
Mystery man Mysskin is back with his latest offering - Onaayum Aattukuttiyum and after impressing us all with his acting in Nandhalala, he has donned the greasepaint for this movie also and gone a step further by producing it too, under his production house - Lone Wolf Productions.
The movie opens to passersby watching an injured Mysskin lying helpless... Nobody stops to help... Sri (of Vazhakku En 18/9 fame) is also passing by and seeing the scene he stops to help. When he takes the injured Mysskin to a private hospital, they refuse to admit him stating that a Police complaint is required. When Sri approaches the Police, they are not of much help either. So, he being a medical student, decides to take things into his own hands and treat the severely injured Mysskin. When he calls his Chief Doctor asking for advice, he gets an earful and the call being cut. At a loss for ideas and not knowing what to do, Sri is about to take his hit of drugs, but the Doctor calls back and instructs him on how to treat the injured man. The doctor asks Sri to use the drugs to sedate Mysskin and then operate on him. Sri tidies up after treating Mysskin and goes to sleep. When he wakes up the next day, Mysskin is nowhere to be seen. Sri goes about his day and has a rude shock in wait for him when the Police track down his address and take him, his brother and his sister-in-law into custody for harbouring and helping a multiple murder convict.
The Police grill Sri asking for the whereabouts of Mysskin, but he keeps repeating that he does not know. Meanwhile, the baddie Adithya is in touch with a policeman and asks that Mysskin be delivered to him, dead or alive. Not knowing that Sri is in Police custody, Mysskin calls him and asks him to meet at a railway station at midnight, stating that he wanted to talk to him. The Police overhear the call and ask Sri to go to the place, but kill Mysskin on sight. When he refuses, they blackmail him with the safety of his brother and sister-in-law... Finally, without any other option, Sri agrees and the Police also train him to use a gun. Sri comes to meet Mysskin and Adithya's henchmen and some policemen are also silently following him, looking to take him down. In the ensuing crossfire, Mysskin and Sri escape by train and despite being chased by a lot of people, arrive at a graveyard. Here, they meet up with an old lady, a couple and a young child. Mysskin narrates a touching but intriguing tale to this odd group in the middle of a graveyard in candle light. Who are these new people? What is the story that he is telling? Why does everybody want Mysskin dead? Who are the relentless baddies? What will Sri do, under so much pressure? Who is the wolf and who is the lamb? Watch Onaayum Aattukuttiyum at the theatres to know!
Director Mysskin has left a mark on us through all his projects till date. He does more than just leave a mark in this movie. Mysskin has handled the roles of an actor, director and producer very well! After a stand out performance in Vazhakku En 18/9, Sri comes back with another astounding act in this movie. Adithya - the powerhouse performer breezes through his role, and Neelima has played her role well too. As an actor, Mysskin has proven that he is equally good as he is a director. With suspense, mystery, intrigue and a gripping storyline and screenplay, set in the backdrop of events happening in the night... Onaayum Aattukuttiyum is one edge-of-the seat movie. The intense chase sequences and the twists and turns that unfold are top-notch. One of the most important pluses of this movie is Isaignani Ilaiyaraaja's background scrore. The music adds that extra zing and life to the movie. Crisp editing and wonderful cinematography by Balaji V Rangha add to the movie's advantages. A movie without songs, comedy or a heroine, it is sure to linger in your mind for quite a while even after you leave the theatre.
After getting mixed reviews for Mugamoodi, Mysskin makes a very strong and thrilling comeback with this movie. Onaayum Aatukuttiyum fires on all cylinders and is a sure-shot winner, hands down!