Ochayee Movie

Photos
View More Ochayee Photos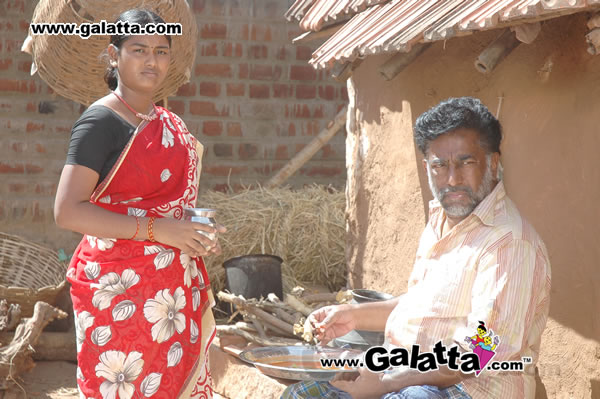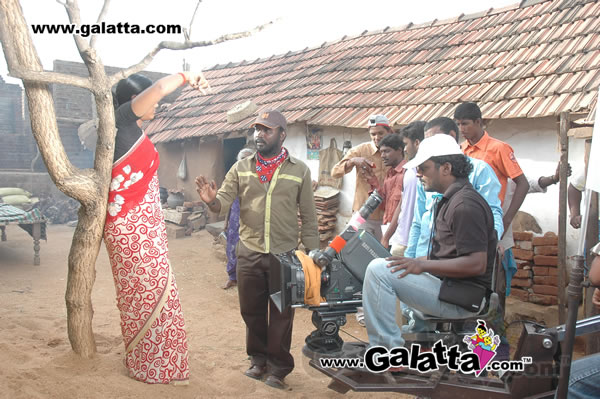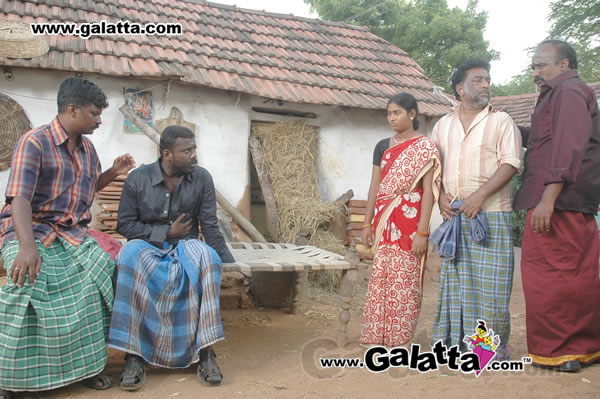 Ochayee Movie Cast

Photos
Ochayee Movie review
Ochayee is a clichéd village story by a debut director with a whole bunch of fresh faces. We have seen it all on screen already: dusty villages, angry young men with handlebar moustaches and 'aruvaals' tucked into their shirts waiting for vengeance. Director Aasai Thambi spins a tale that shows how these short-tempered men destroy lives - their own and those of their loved ones - with mindless acts of violence.
The movie opens with a thug Mokkachami (Daya) singlehandedly hacking down a rival gang and its boss. Aandi Thevar (Santhana Bharathi), the murdered man's relative, vows to take revenge. Mokkachami's boss Karuthapandi (Dravia Pandian) is wrathful at Mokkachami for turning against his old boss Andi Thevar. Though Karuthapandi is a gang boss, he is a kindhearted man who treats Mokkachami like his younger brother. On realising Mokkachami's selfless motive behind the murder, Karuthapandi decides to shield him from Aandi Thevar.
Mokkachami is a misogynist, who believes every woman would ultimately cheat on her husband with other men, in spite of receiving love and care from her husband. This opinion is based on his personal bitter experience. A flashback shows the details of this experience.
When Mokkachami was a child, his father Periya Mayan (Rajesh) had seen his wife engaged in adultery, had murdered her and her lover in rage, and was sent to prison. With his father incarcerated, young Mokkachami was left to fend for himself in the streets of Madurai. Growing up in the streets and struggling for survival, Mokkachami ventured into crime and murder. Karuthapandi adopted Mokkachami and introduced him into his criminal world. Mokkachami's loveless life and criminal history made him a ruthless man who never feels hesitated before slitting the throat of anyone who tried to oppose him or Karuthapandi.
Back to the present: Periya Mayan (Mokkachami's father) is released from prison and is heartbroken to see his son's criminal avatar, blaming himself for his son's fate. He now feels he should have handled his wife's adultery discreetly rather than killing her in a fit of rage, an act which ruined his son's life. Periya Mayan tries to reform Mokkachami, but the stonehearted Mokkachami does not respond to his father's love.
At the same time, Aandi Thevar and his henchmen are plotting to kill Mokkachami and Karuthapandi. Mokkachami's father brings his orphaned niece Ochayee (Thamarai) to live with them. He insists Mokkachami abandon his criminal life, marry Ochayee and start his life afresh. Karuthapandi too insists that Mokkachami leave him and lead a peaceful married life, which Mokkachami rejects, saying his children would also have to suffer the same fate he suffered, if he were to be imprisoned .
Ochayee loves Mokkachami and tries to woo him, but he is irritated with her advances. Will Mokkachami shed his hatred for women and reciprocate Ochayee's feelings? Will Karuthapandi and Mokkachami defend themselves against Aandi Thevar's gang? These are the questions for which you will learn the answers when you watch this movie.
Though the ingredients of the movie are stale, debut director Asai Thambi manages to keep the audience glued to their seats throughout the movie. There are no loose ends and each actor performs his/ her best in this debut attempt. We don't see any familiar faces except Rajesh, who plays Periya Mayan and Santhana Bharathi, who plays Aandi Thevar. Ganja Karuppu and Shakeela as street performers try their hands in comedy but create only a mediocre impact. The songs and music are forgettable. The scenes where Ochayee tries to woo Mokkachami remind us of Paruthiveeran. Asai Thambi has included subtle messages to a particular martial caste group, and in some scenes, even explicitly glorified them. The movie will join the list of rural action movies like Virumandi and Paruthiveeran. Ochayee is raw, meticulous in showing men of violence, and is made for the retro male. We do not know when Tamil filmmakers would lay this overused theme to rest.
Petson Peter