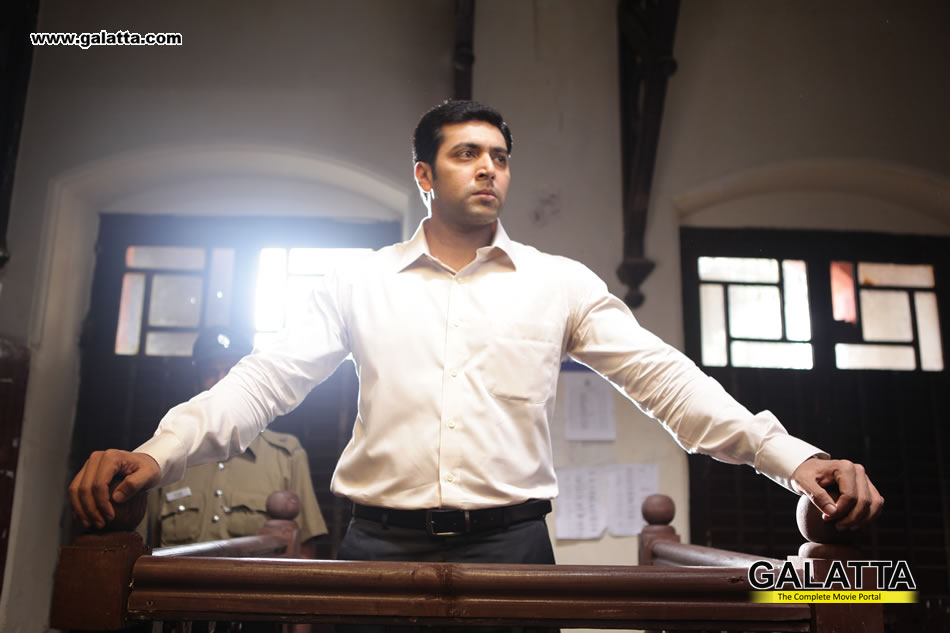 Nimirnthu Nil Movie review
Directed by Samuthirakani and starring Jayam Ravi and Amala Paul in the lead roles, Nimirnthu Nil has created the buzz of being a hard-hitting film with a message and a take on social issues... The movie has finally released after a lot of hurdles...
The movie opens to a lady admitting her son to a boarding school... 12 years later, the child - State first in the 12th standard, gets into a reputed college... 5 years later, the young man - a university rank holder, moves out to face the world. The young man - Aravind (Jeyam Ravi) finds blatant disregard for social rules around him. People lie to one another, flout one-ways, use cellphones while driving, fight in the middle of the road and what not... Aravind is frustrated by all this. After seeing that whatever he learnt about the society while growing up will not help him in the real world, he just does not know what to do. During a traffic jam, Aravind's bike key is seized by the traffic police constable, along with the keys of a few other people's bikes. Everybody else either bribe or use some influence to get back their bike keys... Aravind, reluctant to follow any illegal means, gets into an altercation with the constable, who seizes his vehicle and with no other go, Aravind has to take a bus to go to office. At the traffic jam, he meets Poomari (Amala Paul) - a cute girl, who tries to help him. The bus journey lands Aravind at the Police station, and his friend (Soori) helps him get out by bribing the officials. However, Aravind writes to superior officials and exposes all the corrupt officials, following which they are punished. All the affected officials team up and teach Aravind a violent and bloody lesson. After battling for his life and coming back from the brink of death, Aravind decides to take on these officials... He does not use violence... An upright advocate (Panchu Subbu) and a TV anchor (Gopinath) join him in his crusade. What does Aravind do? Can an individual change the society? How deep does corruption run in our system? To what lengths would the corrupt officials go, to save their skins? Can an ordinary man do anything at all of consequence against such a mighty system? Who is Narasimha Reddy? How does his arrival in Chennai impact Aravind's battle against the corrupt officials? To know the answers to all these questions, watch Nimirnthu Nil on the big screens!
Director Samuthirakani has already shown in all his previous movies that he is a person who provides an impact through his work. He has ensured that there is quite an impact with his latest project too. He has taken an issue that is plaguing our country and society and attempted to provide a solution to it through Nimirnthu Nil. As the title itself suggests, the movie is all about a man wanting to stand upright. He has perfectly executed the plot without any unwanted frills. There is a lot of reality to the storyline and it does not seem superficial at any stage. Jayam Ravi has delivered a powerful performance. His performance as a common man forced to react by the social outrages he faces is wonderful. Amala Paul plays a perfect foil to the hero and is apt as Poomari. Soori's role has a lot of scope for performance and he has delivered. Panchu Subbu, Gopinath, Sarathkumar, Ragini, Professor Gnanasambandham, Badava Gopi and the host of other supporting characters play their roles well and lend weightage to the movie. GV Prakash's music is good, though at places one feels that the background score could have been better. The stunts have been well choreographed and make an impact. A racy first half and a second half filled with a message keeps the viewers rooted to their seats. The infusion of subtle comedy into the movie is enjoyable.
With the elections around the corner, Nimirnthu Nil could not have come at a better time! The movie's message of "correct yourself instead of blaming others" has been powerfully portrayed!