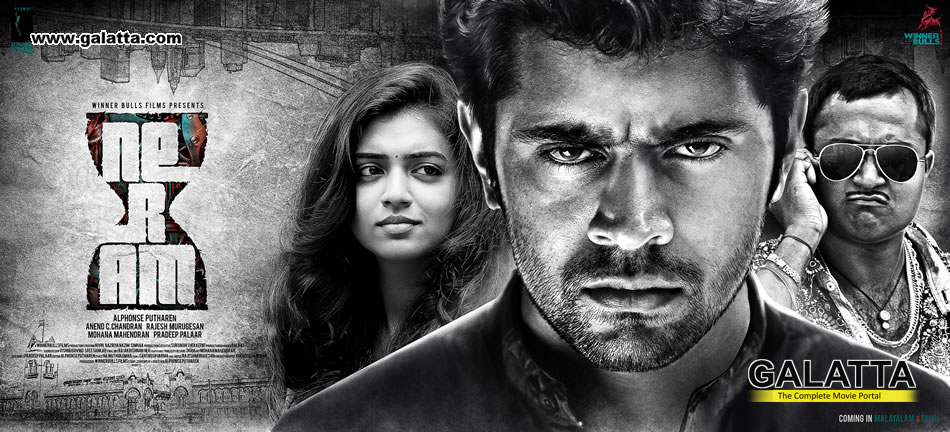 Neram Movie review
When the time is bad, everything that you do goes wrong. This seems to be the crux of Mollywood Mollywood director Alphonse Putharen Tamil-Malayalam bilingual Neram, which stars Nivin Pauly and Nazriya Nazim in lead roles. The film has been creating a lot of buzz ever since the teaser and promos released.

The Plot

Well-qualified Vetri (Nivin) losses his job as his US based IT Company goes into a financial crunch. From there the trouble begins... To add on, he takes loan from the dubious Vatti Raja (Simha) for his sister's wedding. And the story takes place on the final deadline given by Vatti Raja. Vetri's only support is his childhood sweetheart Veni (Nazriya Nazim) and his friend John. Vetri's problems get wroser when Veni's father (Thambi Ramaiah) fixes her wedding with a man of his choice. Finally Vetri's friend arranges money and decides to settle Vatti Raja, but on the way Light House (Ramesh Thilak) steals his money. Now Vetri has three hours to settle Vatti Raja's amount and fix his life.

Though the plot of the film (where a middle class man struggles to make the ends meet) is old and clinched, director Alphonse gives it a new treatment. Here the hero thinks of innovative ways to solve his problems, he even gives a shot at snatching chains. The film's narrative go back and forth, which makes it interesting. Alphonse Putharen's screenplay is tight and racy. Nivin enacts his role so effortlessly whim Nazriya Nazim looks stunning on screen. Thambi Ramaiah as Saravannar is hilarious and though Nazar appears only for the last 15 minutes, he steals the show. Soodhu Kavvum actors Simhaa and Ramesh Tilak have done their role with perfection. Music by Rajesh Murugesan is good while Anand C. Chandran's cameraworks are sleekly and brilliant.

Neram is not the regular run-of-the-mill masala kind! It is interesting, it is different.