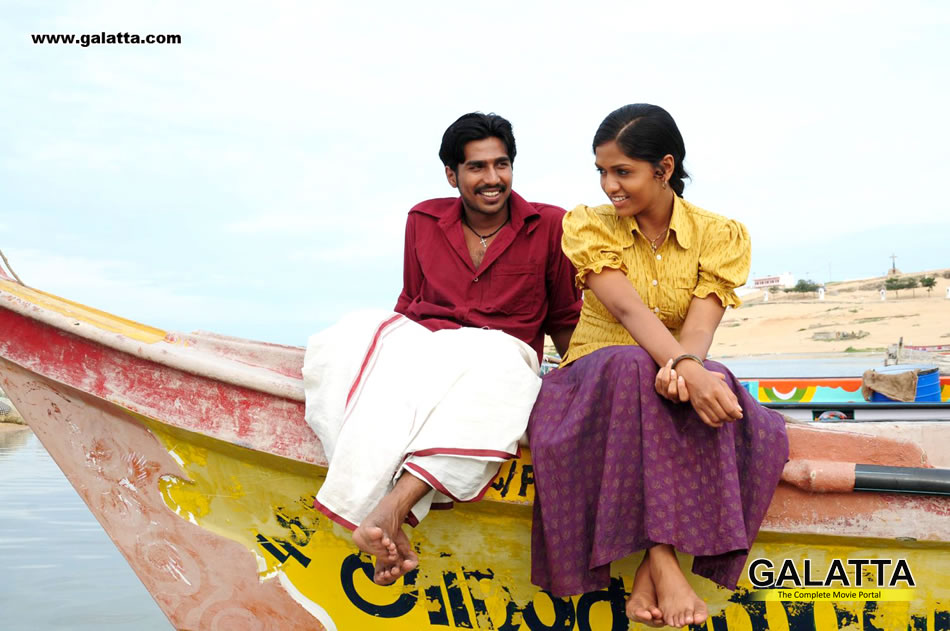 Neerparavai Movie review
After the critically acclaimed Thenmerku Paruvakaatru, director Seenu Ramasamy is back with yet another family drama, Neerparavai, which has received a clean U certificate from the Censor Board. The film has Vishnu and Sunaina in lead roles. Bollywood actress Nandita Das (of Azhagi and Kannathil Muttamithal fame) makes a comeback with this flick. Noted writer Jaymohan has penned the dialogues while Vairamuthu takes care of the lyrics and N. R. Raghunanthan is the music director. The film is produced by Udhayanidhi Stalin under his home banner Red Giant Movies.

Esther (Nandita Das), a widow from the fishermen community, is in search of something always. This irks her only son, as he wants to sell their house and migrate to the city. Everyday night Esther is seen at the backyard of her house, singing songs which is usually sung at the cemetery. Her son begins to suspect her and decides to dig the place. Shockingly, they finds out Arulappa Das' (Esther's husband) dead body there... Esther is arrested and the enquiry begins, from there on it's her story narrated in a flashback!

Esther (Sunaina) is a pious young girl who lives with her cousin Sister Benita. On the same village, Arulappa Das (Vishnu) is an alcohol addict and they all belong to the fishermen community. Arul's parents are always worried about his behaviour and decides to put him in a rehabilitation centre. Meanwhile, Arul falls in love with Esther. When Arul comes back as a changed man, his village people fails to believe him. Arul, then approaches Sister Benita for Esther's hand but it goes in vain. Arul has to now prove himself, with the help of a Muslim boat merchant (Samuthirani), he starts his own fishing network. Everything goes right in Arul's life, he gets married to Esther, until a disaster happens...

Vishnu is brilliant as Arul, there is lots of hard work gone into his character and it is well reflected on screens. Sunaina, goes de-glam and she rocks the screen. Samuthirakani is brilliant so is Saranya Ponvannan, Azhagan Perumal, Thambi Ramaiah and Aupama Kumar. Nandita Das needs no introduction at all and she is perfect. Director Seenu Ramasamy has tried to address many issues through this love story. N.R. Raghunathan's music is good and Balasubramanium's camera works are brilliant. The beautiful locales of Tuticorin and Thirchendur are a treat for eyes.

Neerparavai is a breath of fresh air, a movie you can enjoy with your family and friends. Definitely worth a watch!